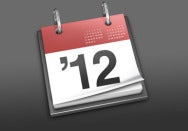 At the end of every year, we take the requisite look back, and the end of 2011 was no exception—we reviewed the year in iOS, the year in Mac, Apple's financial performance, the year in quotes, and Macworld's most read and most loved and loathed stories.
But the new year is just as much a time to look forward. We started last week with Dan Moren's Apple and the year ahead, but every January we also survey a number of Macworld contributors and friends for their predictions for the upcoming 12 months. Specifically, we ask our participants for their forecasts for Mac OS X, iOS, and Apple hardware, as well as for each person's pie-in-the-sky wish for the world of Apple. You'll find such hopes and wishes below.
For those prognosticators who also participated in our 2011 predictions article, we've also noted how each fared last year, using a scale of 0 to 4, with each of the four topic areas worth one point—partial credit awarded, of course. Take these scores with a grain of salt, as they're admittedly subjective; plus, how do you score The Macalope, really?
Jacqui Cheng, Senior Apple Editor, Ars Technica
Last year's score: Mac OS X, 1.0; iOS, 0.5; hardware, 0.5; pie, 0. Total = 2.0/4.0
Mac OS X: My OS X-related prediction from last year—integrated cloud services—ended up coming true, so why not keep running with that? This year, I hope to see even further integration with cloud and Internet services. An obvious example is iMessage on the desktop (who doesn't want that?), but I'm also thinking bigger, like the capability to set up a new Mac from a cloud-based backup or, at the very least, from your Time Machine backup at home while you're out and about.
iOS: Siri made a splash when it debuted with the iPhone 4S, and I'd like to see Apple open up the Siri API to third-party developers. She (it?) already works reasonably well with Apple's own apps and services; wouldn't it be nice to be able to use Siri with your favorite third-party apps, such as one of my favorite CTA (Chicago) apps, Buster? ("Siri, when will the freaking Milwaukee bus arrive!?")
We may also finally see the end result of all these recent—and mysterious—mapping-related acquisitions Apple has been making. What is Apple doing with Placebase, Poly9, and C3 anyway? Maybe the employees are still going through the hazing that Steve Jobs started when their respective companies were first acquired.
Hardware: We didn't see any cosmetic changes in the iPhone in 2011, so 2012 is prime for it. What those changes will encompass is anyone's guess, but thinner, lighter, and "sexier" will undoubtedly be on the checklist. More RAM and a better processor, too? Apple's got this. Of course, this is a boring and predictable answer on hardware, but there are few things I'm more sure of than this. Want something a little crazier? Maybe Apple will even offer the 2012 iPhone in colors this time, laying waste to Colorware's entire market. That would be enthralling, wouldn't it?
Pie-in-the-sky wish: Apple will allow modified iOS apps to be installed on newer Apple TVs. (Modified for the TV, that is.) The company opened the door to the concept in 2011 in the form of the MLB, NBA, Vimeo, and Wall Street Journal "channels" (found under the Internet tab), so it's about time we started seeing other things on the big screen—Cut the Rope, hipster-styled photos on Instagram, or inappropriate Facebook messages from your high school friends. Content producers might even feel more comfortable putting their TV shows, movies, and clips on the Apple TV if they can do it using their own apps. If this happens, the Apple TV will eventually blossom to become the cord-cutting haven that the cable companies have been fearing for years.
Adam Engst, publisher, TidBITS
Last year's score: Mac OS X, 0; iOS, 0.25; hardware, 0; pie, NA. Total = 0.25/4.0
Mac OS X: After releasing the iOS-inspired Lion (Mac OS X 10.7) in 2011, I don't see Apple changing much with Mac OS X—most of Lion's changes were either low-level technologies for developers or interface changes aimed at making Mac OS X seem more like iOS for new users. That said, one area in which we could see notable movement would be an option to prevent users from installing software from any source other than the Mac App Store. That would create a platform that would be both more coherent and more secure than Mac OS X is now. And just think of the online controversy it would cause!
iOS: Time to go out on a limb right from the start: 2012 will bring the fourth major iOS device, the third-generation Apple TV. Running iOS 6, it will finally go beyond being just "iOS-based" by actually allowing you to install and run iOS apps. (I'm not committing to whether this new Apple TV will be a standalone box or something built into a TV or screen, but the former seems more likely to me.) As with the original iPad, this new Apple TV will be compatible with older (non-TV-optimized) apps, but more interesting will be new Apple TV-native apps, which will use Siri-based voice control and other new methods of interacting—think of an iPod touch as a game controller, or even something like the Xbox's Kinect. In fact, you'll need another iOS device to control the Apple TV 3.
Hardware: Let's see. iPad 3 with Siri, a higher-resolution display, better cameras, a faster CPU, and more RAM? Check. iPhone 5 with a new industrial design, 4G LTE connectivity, better cameras, a faster CPU, and more RAM? Check. Apple has maintained its lead in the tablet and smartphone markets by continually pushing the envelope, and the company can't afford to rest on its laurels. On the Mac hardware side, it's hard to see significant changes, though I wouldn't be surprised to see the MacBook Air and MacBook Pro gain an option for a built-in cellular-data modem. For the iMac, Mac mini, and Mac Pro, Apple will stick with processor speed bumps, larger hard disks and/or SSDs, and more RAM.
Pie-in-the-sky wish: Apple isn't going to buy a cellular carrier, since it makes little sense for the company to learn to operate a completely different business. However, I'd really like to see Apple create a worldwide "mobile virtual network operator"—industry-speak for a cellular carrier that owns no towers or spectrum licenses, but instead leases its entire infrastructure from other carriers. Apple could then sell voice and data service for all iOS devices (and my predicted cellular-capable MacBooks!) with simple, affordable pricing that would make iOS devices even more attractive than Android-based smartphones and tablets.
Last year's score: Mac OS X, 1.0; iOS, 0.75; hardware, 0.5; pie, 0. Total = 2.25/4.0
Mac OS X: I don't expect any major Mac OS X news this year. For example, I don't expect to hear about Mac OS X 10.8 at WWDC this year.
iOS: I think we'll see iOS 6 in June at WWDC, on the same schedule as iOS 5 last year. I'm not sure what to predict about it specifically, though, because with the past few releases of iOS, Apple has picked off all the low-hanging fruit: copy and paste, multitasking, a better notification system—there's nothing major like that missing from iOS today.
What I would like to see is SDK support for third-party apps to interact with Siri, and maybe for creating Notification Center widgets like the built-in Weather and Stocks options.
Hardware: New iPads early in 2012, including high-end models with double-resolution retina displays. I think Apple will continue selling the existing iPad 2 alongside the new ones, or introduce a new lower-end model that still sports today's 1024- by 768-pixel screen, simply because I think the retina-display iPad will be a bit expensive. I think the new iPad models will use the same screen size as today's—no 7-inch model.
I also think we'll see a brand-new iPhone later in the year, pretty much on the same schedule as the iPhone 4S, but this time with a redesigned exterior. I don't think we'll see a bigger screen on the iPhone. This trend towards 4.5- and 5-inch displays on Android and Windows phones seems like a mistake to me—I think the iPhone needs to get smaller (especially thinner), not bigger. I also think Apple is very serious about pushing the boundaries of mobile-phone photography, so I expect to see an even better camera than the 4S's in the next iPhone.
Finally, by this time next year, I expect the 15-inch MacBook Pro to look like a larger version of the current MacBook Air: thinner, lighter, SSD-only, with no optical drive. And maybe the high-end MacBooks will go retina display, doubling the pixel resolution.
Pie-in-the-sky wish: I'll repeat my same pie-in-the-sky wish from last year: a HyperCard-like development system for iOS from Apple.
Last year's score: Mac OS X, 1.0; iOS, 0; hardware, 0; pie, 0.5. Total = 1.5/4.0
Mac OS X: Tired of languishing in iOS's shadow, Mac OS X will rebel by getting a tattoo against Tim Cook's expressed wishes—possibly a tribal arm band or a something edgy to show its own OS, like THUG LIFE. A furious Cook will threaten to revoke OS X's car privileges and the whole thing will blow up at WWDC where OS X will storm off the stage, leaving Cook standing there with iOS (which the Mac OS will claim is his favorite anyway so what difference does it make? God, NO ONE UNDERSTANDS ME!).
iOS: Having given iOS a major upgrade to its notification system in 2011, Apple will implement an even more startling upgrade in 2012: pre-notifications. Using patented time-displacement technology, Apple will deliver pre-notifications for events that will be happening to you shortly, such as "Your brother will call you in 15 minutes", "The milk in your refrigerator will go bad at 3:15 PM" and "Hear that clock tower chiming midnight? You'll be dead by the time the bells stop. Make peace with whatever god(s) you worship". Google will attempt to copy the feature by using the open-source "Magic 8-Ball" system.
Hardware: Sexbots. I've long said that only Apple can deliver the kind of product quality and smooth user experience that will make this currently niche product category really take off, and I believe 2012 will be the year Apple makes it happen. (Well, belief and hope are often so mixed up that it's hard to tell them apart. But why not 2013? Seriously, why not, Apple? Because if there's some barrier you need our help overcoming, we're all ears.)
Pie-in-the-sky wish: That's it exactly. Pie…in the sky. Apple will launch a series of satellites to create an orbital pie-delivery system, eradicating world hunger by delivering fruit-filled goodness anywhere in the world. This will also set the company up for 2013 when it will deliver a shiny aluminum solution for obesity.
Andy Ihnatko, tech columnist, Chicago Sun-Times
Last year's score: NA
Mac OS X: I predict a rollback of sorts on iCloud. Remember when Steve Jobs stood on stage and smiled sheepishly and admitted that the first-generation Apple TV was a dud? It won't be as heavy as that. But there will be some movement that most people will interpret as an acknowledgment that iCloud wasn't quite ready to go in 2011…and would everybody please treat iCloud in 2012 as if it were a brand-new thing, please?
iOS: We'll see a less-expensive iPad. Apple almost has to do it, as 2012 will be the first year that the iPad will have any kind of serious competition. Amazon might ship a 10-inch Kindle Fire, but even if it doesn't, there's no doubt that the company will make enough improvements to the 7-inch Fire to turn it into a perceptible threat to the iPad. Meanwhile, Windows will appear on tablets of its own by late 2012. (I've used modern-day Windows tablets, and they're quite nifty.) Apple has had the whole pool to itself for two years, but now the company is going to have to prove its mettle in an open marketplace.
On the other hand, I can't picture Apple ever making a smaller iPad. Heck, I'm not even certain the company will be willing to drop the price on whatever the "current" models is. At best, the company might cut the price in September for the holidays, and in anticipation of a serious hardware upgrade in early 2013. Otherwise, Apple will do what it's done with the iPhone line: release new hardware and keep last year's model (meaning the current iPad) in stores at a reduced price.
Hardware: I predict that by Valentine's Day, I will be sick of talking about Apple-branded TV rumors. I believe that I will be asked questions about such a product in March, and in April, and in May, and by mid-year I will have lost the will to even activate a mental keyboard macro and say the same things I've been saying for several months now ("As usual, never believe an Apple rumor until the company has actually released the thing. I don't immediately understand why Apple would want to do a standalone TV instead of just enhancing the Apple TV box. I suppose the real swing of this idea is in licensing deals with networks and not with hardware, per se."). I predict that I will lean forward, bury my face in my hands, and exhale slowly; then smooth back my hair, rise back to meet the gaze of my questioner, and say "Sorry? I didn't quite get that."
Pie-in-the-sky wish: I'd like to see an explicit way to run full-screen Mac OS X apps on an iPad. It would use the Mac's built-in Screen Sharing feature, with a little extra sophistication on the iPad side. Yeah, it's a pipe dream to think that we'd ever get to run iOS apps on the Mac or vice-versa, but this would be a nice convenience for those many times when there's just no adequate analog for a Mac app on the iPad.
Bonus predictions, because it's Andy: I believe we'll be seeing more of Sir Jony in 2012. Apple will find it difficult to let go of its self-image as an "auteur" company, and as an institution, I think Apple gets a sense of security from the presence of That Guy Who Totally Gets It. We won't see His Royal J-Ness taking up Steve Jobs's public role, but he'll do enough on-camera interviews with mainstream news programs and other shows that he'll become the new face of Apple. Out with one legend, in with a new one.
I believe that before construction of the new Apple Spaceship campus gets fully underway, Tim Cook will be walking around the grounds of the former HP campus hunting rabbits. A shot will miss its mark, and then up from the ground will come a bubblin' geyser of printer ink. He will then load up his beat-up old 2011 Mercedes SL5 AMG and move to Beverly Hills with his delectable niece and his doltish nephew.
Arnold Kim, founder and senior editor, MacRumors.com
Last year's score: Mac OS X, 0.75; iOS, 0.75; hardware, 0.5; pie, 0. Total = 2.0/4.0
Mac OS X: Retina-display support. Boom. No one's actually ever seen one, but we just can't stop thinking about a 300-dpi laptop screen. It's so exciting because it would be something new in the Mac product line that's not just an incremental improvement. Beyond that, I don't think we'll see much in the way of major OS X changes. Apple typically follows an every-other-year release cycle for the Mac OS and we just got Lion in 2011.
iOS: I said it last year, and I'll say it again: Apple is working on some kind of massive custom-mapping solution for iOS. The pieces are in place already. Apple's acquired companies, hired engineers, and basically said it's working on mapping and traffic. I suppose this feature could be more than a year off, but mapping and directions remain one of the big discrepancies between Android and iPhone, so I think it has a high priority at Apple.
Hardware: I fear the poor Mac Pro is doomed. It's not something I say lightly, as I've long been a Mac Pro user—nothing would make me happier than a killer desktop rig from Apple with a beautiful, new industrial design. And it seems just a few years ago that a redesigned Mac tower was the ultimate in drool-worthy rumor mongering. Now we all drool over a new iPhone, and I think Apple is well aware of that shift. The company isn't one to cling to the past, and I think the time of the Mac tower is coming to a close.
Pie-in-the-sky-wish: A brand new Mac Pro with radically different industrial design and lower price tag. It will finally incorporate Thunderbolt, a few PCI slots, easy to open interior, and a sub $2000 price tag. It will revitalize the Apple desktop market and show Apple's commitment to professionals.
The Macalope, pundit-skewering mythical beast
Last year's score: Mac OS X, 0.5; iOS, 0; hardware, 1.0; pie, 0. Total = 1.5/4.0
Before offering this year's predictions, the Macalope will point out that a generous interpretation of his predictions from last year would be that he was about half right. [As you can see, we judged it as 1.5/4.0. Hey, put down the antlers, my friend.—Ed.] So, feel free to pick between flipping a coin or reading what he thinks will happen this year.
Mac OS X: Not much. Having delivered Lion in mid-2011, Apple will probably show some new features at WWDC, but heck if The Macalope has any idea what they should be. You know, sometimes if you have nothing to say it's better to just say nothing at all rather than make things up. But it probably wouldn't be a stretch to speculate that Mac OS X will take on more aspects of its diminutive sibling [We assume "diminutive sibling" means iOS here, but knowing The Macalope, it could be a subtle dig at…something.—Ed.].
iOS: Despite calls by silly pundits for a complete makeover of iOS, Apple will realize the best-selling smartphone's needs are more evolutionary than revolutionary. iOS 6 will be denounced as a ho-hum upgrade that fails to somehow magically bring 4G to older phones, etc., but what it will bring are features that appeal to users rather than technologists. iPhones and iPads will continue to sell briskly.
Hardware: The next iPhone will feature a new form factor and the world will heave a great sigh of relief that Apple finally delivered the phone they should have in October 2011. And then we'll go through the whole "alternate-year Apple device disappoints spec-crazy nimrods" rigamarole, as if the entire class of technology pundits suffered blows to the head as small children and can't remember anything from more than six months ago. Come to think of it, that would explain a lot.
Pie-in-the-sky wish: An Apple TV set. Sure, the rumor mill has this down as so solid you can bet the kids' college fund on it but, seriously, who's going to take your Transformers comic books as collateral in a bet? Oh, bagged and boarded you say? Mint condition? Go on… Anyway, even if Apple is working on a television, there's no guarantee it will come in 2012. But while others scoff at where Apple might provide value in this category, the Macalope believes there is more in Heaven and Earth and Cupertino than is dreamt of in their philosophies.