Canon's PowerShot line of muscular point and shoots has some high-profile new additions just in time for CES. The company has announced the PowerShot G1 X, a brand new flagship point and shoot, alongside two new ELPH models—the 520 HS and 110 HS.
The PowerShot G1 X camera, which slips into the top slot ahead of the current PowerShot G12, features a 1.5-inch, 14.3-megapixel CMOS sensor, the largest sensor yet for a PowerShot model, which Canon says has approximately nine times more light sensitivity than its predecessor.
For snap-shooters seeking a compact camera with advanced features, both the PowerShot ELPH 520 HS and the PowerShot ELPH 110 HS feature sleek, colorful designs.
All three models sport the company's newest Digic 5 image processor, which provides for faster operation, improved color accuracy, and low-light performance.
PowerShot G1 X
This model has a brand new 1.5-inch (18.7 x 14mm), 14.3-megapixel CMOS sensor, designed to deliver shallow depth of field, wide dynamic range, and an ISO range of up to 12800. The processor lets the PowerShot G1 X camera shoot images at high speeds at full resolution (4.5 shots at 6 fps). It's designed as a companion camera for professionals or advanced hobbyists who already own a high-end DSLR, but who want a more portable walkabout camera for informal shooting.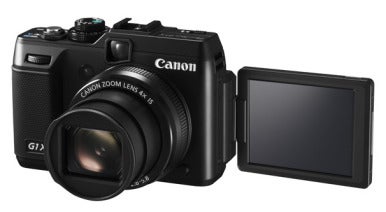 The lens has a 4X optical zoom, an aperture of f/2.8 to f/16, and wide-angle capabilities starting at 28mm. This new model also features 14-bit RAW and JPEG shooting, HDR shooting, and compatibility with hotshoe accessories such as Speedlite, Macro Twin Lite, or the Macro Ring Light flash units.
The PowerShot G1 X camera also shoots full HD 1080p video and includes the same image stabilization features found in the company's camcorder line. Intelligent IS automatically detects and adjusts camera settings based on how video is being shot.
The Canon PowerShot G1 X camera has a bright, 3-inch, vari-angle LCD with 922,000 dots of resolution. The Mode Dial is located on the top of the camera while the Front Dial helps provide more intuitive control.
In terms of looks, the camera resembles, but is slightly larger than the G12 at 3.22 inches high, 4.59 inches wide, and 2.5 inches deep. At 18.9 ounces, it's also a bit heavier. Battery life rates at 250 shots per charge.
The PowerShot G1 X is $800 and will be available in February.
PowerShot ELPH 520 HS and ELPH 110 HS
PowerShot ELPH 520 HS, with a slim 3/4-inch thick body, has a 10.1-megapixel CMOS sensor and a 12X optical zoom lens, ISO range of up to 3200, and wide-angle capabilities starting at 28mm. This camera can shoot full HD 1080p video with a 3-inch LCD, plus high-speed burst mode in which images are captured continuously at 6.8 frames per second. With a battery life of some 190 images per charge, it saves to micro SD cards because of its thin form factor.
Specially designed for new photographers, the somewhat beefier PowerShot ELPH 110 HS features a 16-megapixel CMOS sensor, ISO range of up to 3200, 3-inch wide LCD, and full HD 1080p video. High-speed burst mode allows for continuous shooting up to 5.8 frames per second. It features a 5X optical zoom lens and wide-angle capabilities beginning at 24mm. It saves to standard SD cards.
Advanced Smart Auto functionality
Canon's Advanced Smart Auto feature is designed to help shooters capture important images with a minimum of know-how. Available in both ELPH models, it can detect up to 58 scenes, including non-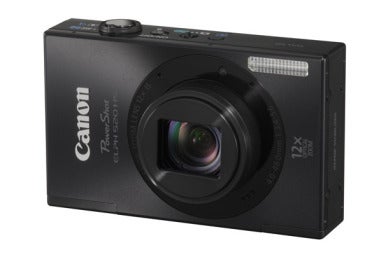 human moving subjects, people, landscapes, pets, vehicles, and more, helping the camera determine the best shooting mode. This technology has been enhanced to include a new Face ID feature, allowing users to register up to 12 people on the camera and have the camera recognize and prioritize each person.
Users can shoot up to five images of a person at various angles or facial expressions and enter their name and birth date. This allows the camera to distinguish subjects by age: Babies (0 to 1 year old), Children (2 to 12 years old), or Adults (13 years or older). The camera then uses this grouping to focus on the youngest recognized group in the frame and makes the images searchable by person.
Smile Recognition—which takes three consecutive shots with the camera selecting the best one for the final image—and Sleeping Face Recognition, wherein the flash, assist beam, and sound is turned off for a silent shot—are also part of the Smart Auto technology.
The PowerShot ELPH 520 HS will be available in black, silver, red, and blue in March for $300. The PowerShot ELPH 110 HS comes in black, silver, red, blue, green and pink. It will be available in February for $250.
Canon PowerShot G1 X Compact Camera
Canon PowerShot ELPH 110 HS Compact Camera
Canon PowerShot ELPH 520 HS Compact Camera