Keeping its tradition of releasing a free public beta of its professional photo management software in advance of a major new version, Adobe has announced Photoshop Lightroom 4 beta. It's now available for download on Adobe Labs. The company seeks feedback from the community on how to improve the program before the final release of version 4, which will be sometime in the early part of the year.
Lightroom, which plays alongside Apple's Aperture and the brand new Corel AfterShot Pro, is a photo workflow tool targeted to professionals and advanced amateurs to import, manage, enhance, and showcase their images.
The beta showcases the upcoming version's refined technology for shadow and highlight processing, enhanced support for DSLR video, the ability to create photo books, and send email from within the program.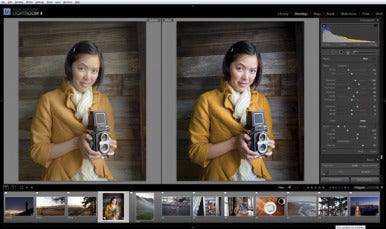 A new Map module displays geotagged images and provides location tagging controls and saved locations so users can now search for photos by location. "We're looking not just at the when, but the where," said Tom Hogarty, Lightroom product manager. "The where plays a large role in the mental bookmark of a photo."
The software's new tonal adjustment controls are designed to extract the entire dynamic range from cameras for shadow details and highlights. The upcoming Lightroom version features new local adjustment controls, including noise reduction, moire, and white balance.
New native video support lets photographers play, trim, and extract frames from video clips shot on DSLRs, point-and-shoot cameras, and smartphones. Many standard Lightroom image adjustment controls can also be applied to video clips and adjusted videos can be exported as H.264 files or published directly to Facebook or Flickr.
Adobe has forged a new partnership with Blurb, the publishing platform that helps users design, publish, market, and sell printed books. Lightroom 4 beta gives a sneak peek at how the new version will facilitate the creation of photo books, complete with rich text controls and a variety of templates. The program features a direct link to Blurb's printing service from within the new Book module.
In the Develop module, new soft proofing tools help photographers fine-tune images in the intended color space. Users can now email images directly from Lightroom using any email account, including Gmail, Hotmail, and Yahoo! Mail.
Photoshop Lightroom 4 works on Intel Macs running OS X 10.6 or higher.