Despite the lack of an updated look for the iPhone 4S, the latest revision of Apple's smartphone continues to catch consumers' eyes. According to one recent survey, demand for the iPhone 4S is outstripping its competitors by a healthy margin.
Market research firm ChangeWave Research has released a survey of 4000 North American consumers, showing that among those planning to buy a new smartphone in the next three months, 54 percent say they will opt for an iPhone. While that number is down 11 percentage points since ChangeWave's September 2011 survey, the company also notes that Apple's lead is the highest it's ever had two months after a major release.
The nearest competitor to Apple is Samsung, which itself has gained an impressive 8 percentage points among prospective buyers, rising to 13 percent. ChangeWave attributes much of that success to recently released Galaxy Nexus, which also happens to be the first U.S. 4G phone that runs Android 4.0, colloquially dubbed Ice Cream Sandwich.
Other manufacturers haven't been so lucky: RIM has dropped to an all-time low of 2 percent, while HTC is down from 6 percent to just 3 percent. Surprisingly, Motorola, which had previously seen 4 quarters of declining numbers, rebounded slightly, gaining two points to clock in at 7 percent. Its case might have been helped by the recent acquisition of Motorola's phone division by Google, which passed final approval in November.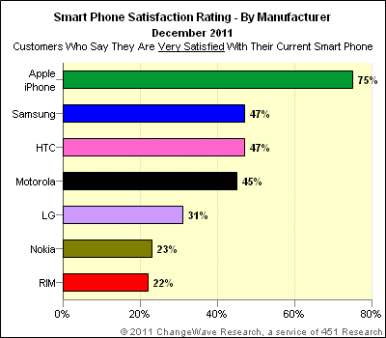 What lies behind these numbers? Unsurprisingly, the planned-purchase numbers seem to coincide nicely with the customer satisfaction figures that ChangeWave tracks. The iPhone continues to please its users, with 75 percent of current owners describing themselves as "very satisfied." Samsung and HTC tie for second with 47 percent, and Motorola trails at 45 percent. Beyond that, 31 percent LG users report themselves very satisfied users, with Nokia at 23 percent, and RIM bringing up the rear with just 22 percent, its lowest ever rating.
While satisfaction ratings for iOS and BlackBerry users carry over (since only one company makes phones for each operating system), 47 percent of Android users said they were very satisfied with their phones. ChangeWave says 32 percent of all Windows phone users described themselves as very satisfied, but there's a big breakdown between users of the older Windows Mobile OS, just 12 percent of whom said they were happy with their phones, and the new Windows Phone OS, which garnered a 55-percent very satisfied rating. Still, that last number has not yet translated into a major sales boost for Microsoft and its partners.
As for Apple, we'll find out exactly how well the iPhone 4S is doing later this month, when Apple announces its first-quarter financial results on January 24. That quarter will not only report the first iPhone 4S sales, but will also include the recent holiday season—so expect a pretty significant jump in sales, thanks to pent-up demand and gift-giving.