Hipmunk's iOS app has given iPhone and iPad users a way to check airfares and book flights from their mobile devices. A Monday update to the Hipmunk app now lets users find a place to stay once they arrive.
Version 2.0 of the free Hipmunk mobile app sports a name change—it's now Hipmunk Flight & Hotel Search—and newfound capabilities that justify the new moniker. The iOS app adds hotel search and booking capabilities to match its flight search tools, mirroring the functionality of Hipmunk's Web-based service.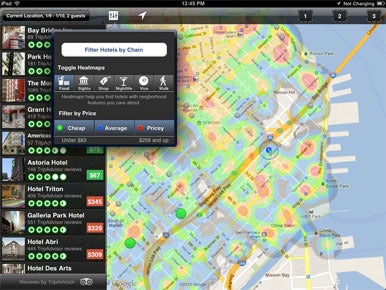 When you launch the app, you can toggle between searching for flights and hotels with the tap of a button. (The iPad version of the app offers another visual cue: Its cartoon chipmunk mascot will be dressed as a bellhop if you're searching for hotels instead of as a pilot.) While the Web version of Hipmunk lets you enter in destination and travel information, the mobile app assumes you want to book a hotel room for wherever you are: It fills in your current location and the current date by default. (You can alter that data to other locations and dates by tapping.)
Using current location as the default setting for booking hotels is a nod to mobility, according to Hipmunk mobile developer Danilo Campos. "It's really great for, whether by design or by accident, you didn't plan for a hotel," he said. The Web-based offering, in contrast, is aimed more at users who are sitting down at their computer to research a trip (though, again, mobile users can do that kind of trip research using Hipmunk on their iOS devices as well.)
Run a search on Hipmunk, and the app will lay out dots on a map showing where hotels are relative to your location. Color-coded dots represent what Hipmunk has determined as best bets, with different colors for different price levels.
You can filter out results by price, if the thought of paying up for a pricey room doesn't appeal to you. Other filter options produce map overlays that show how close attractions such as food, sights, shopping, and nightlife are to the listed hotels. Hipmunk calls these "heatmaps," and they rely on color-coding—a red zone for the food heatmap overlay suggests a hotel is surrounded by a lot of restaurants.
If you want to book a room, the Hipmunk app provides links to making a reservation through sites like Hotels.com and Booking.com. As with booking flights through Hipmunk, the app can also supply you with a finish.hipmunk.com URL (a dedicated Web page where your booking preference is stored) and a code for placing a reservation from the comfort of your computer and its physical keyboard. If you'd prefer to keep looking for a room, a Keep button allows you to store up to three search results.
Both the iPhone and iPad versions of the Hipmunk app offer the hotel search capabilities, though Hipmunk takes great advantage of the iPad's extra screen space. In landscape mode, search results appear in a pane on the left side of the screen in addition to the dots on the map. As you pan around the map, the results in that pane change to reflect your new location.
The Android version of Hipmunk's app has also been updated to include hotel search functionality.