It wasn't so long ago that Apple observers were wondering why it was taking Thunderbolt peripherals so long to get to market. This week's Consumer Electronics Show in Las Vegas may be putting an end to that conversation.
Here are some of the new Thunderbolt-compatible accessories that have been unveiled at CES: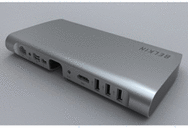 Belkin has introduced the new $299 Thunderbolt Express Dock. The dock includes three USB 2.0 ports, one FireWire 800 port, one HDMI port, one 3.5mm audio port, one gigabit Ethernet port, and two Thunderbolt ports for daisy-chaining to other Thunderbolt devices. The dock will be available to buyers in September.
Elgato's new Thunderbolt SSD is compact enough to fit in your back pocket. The solid state drive draws power from your Mac directly through the Thunderbolt port, minimizing the cable mess that can often accompany peripherals. The $430 device comes to market in February.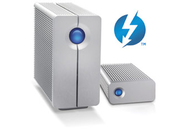 LaCie: This peripheral maker unveiled two new Thunderbolt products: The 2Big Thunderbolt Series, a professional two-bay RAID server aimed at photo and video editors; and the eSATA Hub Thunderbolt Series, designed to let Thunderbolt-equipped Macs connect to external hard drives and get top data-transfer speeds. LaCie says the new products will hit the market "in the first quarter of 2012." The company offered no pricing information.
Blackmagic Design: The company's new Intensity Shuttle is a video capture box with HDMI, analog component, composite and S-Video inputs and outputs. It also has support for SD and HD compressed and uncompressed 10-bit video capture and playback. The $239 device will be available during the first quarter of 2012.
Fudzilla points out that that OCZ Technology is showing off the Lightfoot external hard drive, which is Thunderbolt-compatible. OCZ didn't specifically mention the Lightfoot in its press release highlighting products it would display CES, promising only that it would feature a Thunderbolt-enabled hard drive. Fudzilla said no information on pricing and availability of the Lightfoot was available from OCZ.
It has been nearly a near since Apple started equipping MacBook Pros with Thunderbolt ports. The technology allows for super-fast transfer of data—three times faster than the best FireWire technology—including, notably, video—between a computer and external devices. As the technology becomes cheaper, though—and that appears to be happening with the latest round of announcements—experts say Thunderbolt will find mass-consumer uses, enabling super-quick data backups, the editing of high-definition photos, and more.