Talking about the weather is so mundane it's almost a cliche. But Weathermob is looking to change that with Weathermob, the company's namesake app that's taken weather small-talk to the next level by creating a network of weather-minded users around the globe.
Launch the app, and you're greeted with a graphic showing the current forecast for your area. The graphic depicts the current temperature, weather conditions—sunshine, fog, rain, and so forth—and an emoticon meant to correspond with those conditions.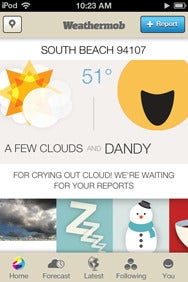 Like any good weather app, you can use Weathermob to get the forecast for your current location. Hit forecast, and you can view both an eight-day outlook and an hourly forecast. Navigate to the Latest tab, and you can view real-time updates from other users. Hold down Latest to toggle between real-time updates from other users in your current location or around the world. Once in World mode, you can choose to view a real-time stream of updates or you can search for updates by specific locations.
But, at its core, Weathermob is a social app. It's designed for sharing forecasts, not just looking at them. Hit Report and you can create your own weather report for your location. Each report has three components you must complete: "The weather is..", "I'm feeling…", and "It's weather for…". A wheel allows you to scroll between graphics that you can use to complete the different parts of your report. Weather conditions range from Sunny to Hurricane and feelings from Miserable to Fabulous. The "It's weather for…" category has more than 50 pictures to choose from to help you illustrate how you feel about the weather. You can personalize your report even further by adding a comment, photo, or video.
Visually, the app is very appealing; the interface is clean and easy to navigate. Even the in-app graphics—though a little cheesy—are fun and look nice within the app. But the best part, for me, was looking at the photos other users had shared. There's something very compelling about being able to see other people's weather photos, and I enjoyed being able to search for updates from very specific locations, such as different neighborhoods within a city.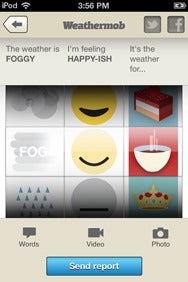 Still, I think Weathermob could do more to make it easier to search for the kind of updates you actually want to see. I think a tagging feature would be handy so you could more easily filter updates. Also, tagging posts with the city they're from would be helpful because the app's given locations are a little too specific. Right now, you see only a zip code and the name of the neighborhood, which isn't very descriptive to people outside of that area. If my posts say "South Beach, 94117," for instance, other people in my city may know I'm in San Francisco but users who have never been to San Francisco but are planning a trip here might not.
You can easily share your reports with friends by integrating Weathermob with your Facebook and Twitter accounts. However, I ran into a glitch when trying to connect through Twitter—the app crashed every time I tried to search for people I follow on Twitter. Sharing via Facebook, however, worked well, although if you post a Weathermob report without a picture it looks more like a status update than a weather report.
While Weathermob is not without its flaws, they don't overshadow the rest of the app. Weathermob's simplicity and unique approach to sharing make it stand out as a weather app. And I think a future update—Weathermob is still in its first version—could take it to the next level.
[Karissa Bell is a Macworld editorial intern.]