For audiophiles with an extra $30,000 a new iPod dock pumps out so much bass, it'll make your insides shake.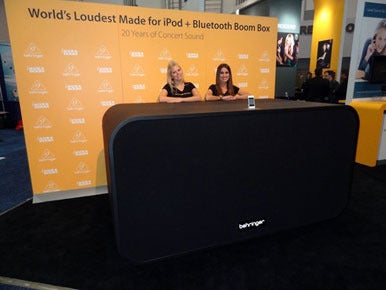 Launched at the 2012 International Consumer Electronics Show, the iNuke from Behringer measures a massive 8 feet by 4 feet by 4 feet, and weighs 900 pounds, or about 408 kilograms.
The iNuke has dual 18-inch subwoofers at 3,000 watts each. "You can run this thing off two 15 amp residential circuits," said Costa Lakoumentas with Behringer.
To avoid blowing a fuse, when the iNuke is turned on it powers up the components in a sequence. There's also a switch on the back of the unit to add 12 decibels of extra power.
Lakomentas said there are "a couple" or preorders for the massive unit, despite its high price.
"It's not for everybody," he said. "But for someone who has the space and is willing to invest, they get a sound system that is equivalent to anything at the finest club or concert."
For those not looking to spend the cash Behringer has made a much smaller dock that retails for $99.