The search for interesting Mac and iOS gear at the 2012 International Consumer Electronics Show continues, with a tour of the ShowStoppers event. Similar to Pepcom's Digital Experience, ShowStoppers is designed to let smaller companies benefit from the large crowd of people in town for CES without having to pay the toll of a big booth on the showfloor proper. Here are just a few of the companies we spoke with.
Blue Microphones
Blue debuted its three newest digital microphones on Sunday at CES Unveiled, but the the company was still ready for their its welcoming party at ShowStoppers. The Spark Digital and Mikey Digital are both designed with iOS devices in mind: The first is a USB- and iPad-compatible version of the company's popular Spark cardioid condenser microphone, while the second is a revamp of the Mikey mobile recorder for the iPod. The final member of Blue's new microphone team, the Tiki, is a tiny USB-powered recorder designed with a new kind of noise isolation. All three look spectacular, and we can't wait to get our hands on a review unit later this year when they become available to the public.
The $199 Spark Digital offers volume, gain, and mute controls on-board along with a Focus mode that allows users to hone the incoming sound in different ways. The microphone also comes with a shock mount stand.
The $99 Mikey Digital plugs directly into your iOS device's dock connector for an on-the-go recording solution. The cardioid condenser stereo mic has three gain controls to indicate what kind of sound you'd like to capture, a 230-degree rotating design, LED lights along the side to indicate whether or not your audio is clipping, a line out port that allows users to add a guitar or additional mic into the mix, and a mini-USB port for charging and pass through.
If it's podcasting or voice recording you're after, Blue's $59 Tiki is a diminutive and inexpensive USB microphone that theoretically "mimics the intelligence of human hearing," according to the company. It uses a special noise-canceling algorithm that Blue calls Intelligent Speech Mode to isolate the human voice. When you talk, the Tiki records; when you stop talking, it will mute any background room noise, typing sounds, and other annoying miscellaneous noise. If you'd rather, you can disable this mode by pressing a small button on the end of the Tiki to revert to Natural Recording Mode.
HiDrive
Though German Dropbox competitor HiDrive has been around for a few years, it's stayed relatively unknown here in the United States—an impression the company would like to change. At ShowStoppers, HiDrive had a simple but striking booth that displayed its cute animated commercial, with representatives on-hand to explain the advantages of the service. Like Dropbox, HiDrive offers 5GB of cloud-based sync-anywhere storage for free, though it offers higher storage paid tiers than the U.S service ($13 for 100GB and $38 for 500GB), ISO 27001 certification, and SMB/CIFS and WebDAV setup options.
Days of Wonder
Board game and iOS game maker Days of Wonder had the requisite giant television on-hand at ShowStoppers to show off its newest ware, Ticket to Ride. (Macworld reviewed the iPad version last April, and the iPhone version in November.) But that's not what caught the eyes of those wandering through the aisles: The company set up a mock living room with a black leather couch and a coffee table—along with an in-progress match of the Ticket to Ride board game. Days of Wonder CEO Eric Hautemont was there to talk about the company's success with iOS; he also dropped a hint or two to Macworld about the next Ticket to Ride update (hopefully to be released within the next few months), and a few cryptic comments about the company's next big iOS project (yet to be revealed).
The Neat Company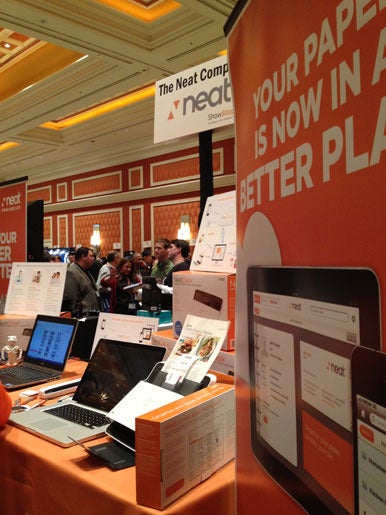 The Neat Company focuses on keeping your desk tidy: At Showstoppers, it announced new cloud and mobile services for its products aimed at helping you meet that goal. The company's NeatDesk and NeatReceipts scanners will be equipped with these services; users can go to any browser to access and share information from their Neat digital filing system. You'll also be able to capture documents, receipts, business cards, and more using an app on iOS or other mobile devices. NeatCloud and NeatMobile are scheduled to be available in Spring 2012 on the subscription pricing model; exact prices are to be announced.
Plex
Fans of media server software Plex will be pleased to hear that the company is planning a few nice updates for its users in the coming months—recommended video sharing, Xbox support, and a Plex app for Windows Phone 7 were all previewed at ShowStoppers. From what we saw, video sharing support is pretty nifty. Users can choose a show or video they liked from their Plex library and recommend it to a Plex-using friend; that video will then pop up in the friend's library for their viewing pleasure. Xbox support is also coming in Plex's next update, allowing users to tap into their Plex library on their Xbox like they would a shared computer.
Violet Karotz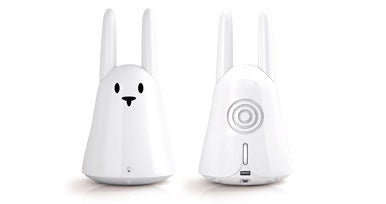 This cute bunny got a lot of buzz at Showstoppers, mostly with visitors asking "what does does it do?" According to Violet, Karotz is an Internet-connected companion robot that also happens to communicate with your social networks. Users can interact with Facebook and Twitter through the bunny robot, via its iOS app Karotz Controller. Karotz's other useful capabilities include responding to user questions and requests; playing music; checking and sending emails, reading the weather forecast; and more. It also has an integrated webcam, so you can keep an eye on your home through the adorable Karotz's eyes. The product is available on the Karotz site for $130.
Wrapsol
Wrapsol released its new non-slip grip pad for the iPad at CES this year, showing it off to Showstopper attendees. For such a simple accessory, it's actually incredibly useful. The Grip Pad is made of micro-textured material that will hold the iPad in place on your leg or elsewhere, even at steep angles. You can stick it directly onto the back of your iPad, or onto your favorite iPad case. Either way, you'll never need to worry about your iPad slipping away as you lazily check emails while lying in bed or on the couch. Wrapsol hasn't announced a price for the Grip Pad yet.
Gear4 Renew SleepClock
With all of the sleep-related products at CES, we wouldn't be surprised if everyone wound up keeping track of their deep sleep versus light sleep hours. Gear4's latest Renew SleepClock is unique because it doesn't require that you wear any device on your body (like Jawbone's Up wristband). The Renew SleepClock device can actually detect your movement as you sleep, so for example, if you're in a deep sleep, you won't be moving compared to when you wake up in the middle of the night and start fussing with your blankets. All of that information is stored in your iOS device, which is docked in the Renew SleepClock. The product is scheduled to be available in Apple Stores this March for $200.