Shazam, best known for the music recognition app—the one that tells you whether you're hearing Michael Bublé or Michael Bolton—released a new iPhone app on Wednesday: Shazam Player. The app plays back music from your iPhone's library, adding in support for live lyric display, social network integration, YouTube artist videos, and concert information.
The feature that Shazam seems most excited about is LyricPlay, which scrolls the lyrics for the song you're listening to, so that you can sing along, or correct your "Hold Me Closer, Tony Danza"-esque mis-hearings. In practice, the feature is a mixed bag: While the lyrics lined up perfectly in my test with The Beatles' "Hard Day's Night," with numerous other artists, sometimes LyricPlay seemed to run several measures ahead of the singer. LyricPlay can match more than 30,000 songs already, and Shazam says it's adding more every day. The company previously showcased LyricPlay in its paid Encore app.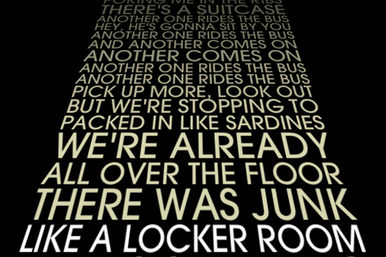 The app can browse your iTunes playlists, and also offers the option to create Shazam-only playlists—including a default Good List and Bad List, which contain songs you do and don't want to hear, respectively.
Shazam Player also includes options to tell your friends on Facebook and Twitter about the song you're currently listening to. It additionally provides options to see YouTube videos and upcoming concerts from the selected artist.
If you have the original Shazam app installed, Shazam Player includes a button to switch quickly to the other app, in case you have a sudden song identification emergency.
Shazam is free, and works on any iOS device running iOS 4.3 or later, though it will not run natively on the iPad.