Have you ever copied text from a webpage, formatted document, or PDF and then pasted it into a document of your own, only to be frustrated that all the original formatting—font, size, bold, italics, what have you—is pasted, as well? Similarly, have you ever selected items in the Finder with the intent of pasting their names in a document or email, only to have the items' icons—or, worse, the actual files and folders themselves—pasted instead?
Some Mac apps, such as TextEdit and Bean ( ), include a Paste & Match Style option, in the Edit menu, that ignores formatting and copied files and images. Microsoft's Office programs provide a Paste Special command that lets you choose to paste just unformatted text. But wouldn't it be handy to have a single format-stripping command that works across all apps?
That was the appeal of Plain Clip, which I most-recently covered in Mac Gems in 2009. Launch Plain Clip with formatted text on the clipboard, and you're left with just simple text; if you copied items in the Finder, you're left with just those items' names. (Plain Clip can also perform a few other text-munging tricks.) But you have to launch Plain Clip each time you want to use it, whether you do that using the Dock, the Finder, or a utility such as LaunchBar ( ). As I explained in my most-recent review of Plain Clip, there are ways to automate this process, but they're likely too advanced for many users.
An alternative is Clipboard Cleaner (Mac App Store link), which is even simpler than Plain Clip. The only thing it does is strip all formatting and non-text content from the current clipboard contents. Just copy content to the clipboard, choose Clear Formatting From Clipboard from the systemwide Clipboard Cleaner menu, and paste. Even easier, you can enact this cleaning by pressing Shift-Command-X.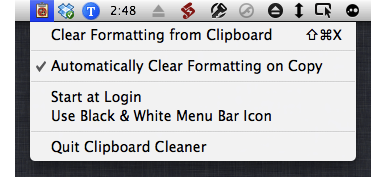 But the feature that makes Clipboard Cleaner noteworthy is that you can configure it to automatically clean the clipboard's contents. Choose Automatically Clear Formatting On Copy from the utility's menu, and anything you copy to the clipboard will immediately be stripped of all formatting without any further action on your part. Given that I usually want to paste unformatted text, I love this feature; for those times when I want to preserve formatting, I temporarily disable it.
That said, Clipboard Cleaner feels a bit incomplete, at least when it comes to options. Because it can be configured to work in the background, I wish there was a way to hide Clipboard Cleaner's menu-bar icon. I also wish that if you choose not to enable automatic cleaning, you could pick your own keyboard shortcut for manual cleaning (I find it confusing that Shift-Command-X is a variation on the system's Cut shortcut, Command-X). Finally, when automatic cleaning is enabled, I wish there was a simpler way to preserve formatting and non-text content for a particular copy action. For example, it would be great if you could press Shift-Command-C to copy content without cleaning it. I hope to see these kinds of options in future updates, as Clipboard Cleaner is otherwise quite useful.
Want to stay up to date with the latest Gems? Sign up for the Mac Gems newsletter for a weekly email summary of Gems reviews sent directly to your Inbox. You can also follow Mac Gems on Twitter.