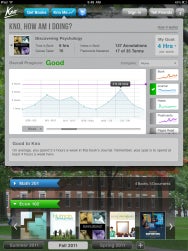 With an apparent eye on Apple's Thursday education event in New York, e-textbook provider Kno on Tuesday announced two features designed to expand its capabilities in the increasingly competitive digital education market.
Kno Flashcards will create more than 40 million digital flashcards out of the 150,000 e-textbooks available through Kno's online service and iPad application. (See the video below for a demonstration.) The company also announced Kno Me, an analytics dashboard that helps students and their parents track study habits, with metrics for time spent in a book, knowledge of key terms, and quiz results. Information about that feature was unavailable on Kno's website, however, and the company did not say when the new features would become available.
Almost as soon as the iPad hit the market in 2010, educators put it to work in the classroom, utilizing public offerings available in the App Store, along with a variety of e-textbook and classroom management offerings from companies like CourseSmart, Blackboard, and even old-school publishers like McGraw-Hill. And in recent months, Amazon has emerged as more of a rival—unveiling not only the smaller Kindle Fire, but also launching a textbook rental service of its own.
Now those competitors are eyeing Apple, whose education event has prompted rampant speculation the company is about to make a strong move of its own into the e-textbook market, possibly by offering tools that make it easy for third-party developers to create their own interactive textbooks. That could make the iPad an even bigger focus of electronic education efforts; it could also create a whole host of new competitors for businesses like Kno.
Kno's iPad app is free, and a 15-day trial is available for textbooks available in the app. After the trial is over, textbooks must be purchased in the app; Kno's list of Top 10 in-app purchases inlcuded one book for $6—the rest ranged from $55 to $120.