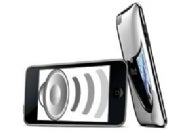 Reader Steve Paulson finds that old and new iOS devices don't always mix in pleasing ways. He writes:
I have a second-generation iPod touch. Several others in my home have 4G iPod touches. When apps are updated, my iPod is often obsolete—an app that once worked fine on my iPod is replaced by a version that now only works with the new iPods. Is there a way I can access the older files I know are still on my computer to add to my iPod and leave the newer ones for them?
I don't know that I've ever read a more compelling case for creating another iTunes library. Your ointment is so fly-ridden because you're trying to manage too many devices from a single library. As you've noticed, when you update your and others' apps via iTunes, never versions that aren't compatible with your iPod replace the older versions that are. And when someone else using the library with a newer iPod updates their apps on the iPod and then syncs it back to iTunes, iTunes transfers those newer versions from the updated iPod and the older versions are biffed into the trash.
So, clumsy though it may be, you need to create an iTunes library that is just yours. You can do this by quitting iTunes, launching it again while holding down the Option key, and then choosing to create a new library.
When you do this you'll begin with an empty iTunes library. You'll then need to add to that library any files that you want to sync with your iPod touch—this includes not only apps but also media files. You can do that by dragging the files into the media area of iTunes' Source list. If you don't want to create a second copy of these items, open iTunes' preferences, click the Advanced tab, and disable the Copy Files to iTunes Media Folder When Adding to Library option.
As for updating your apps, I'd suggest doing it from the iPod touch as it won't download incompatible updates. If you do choose to do it via iTunes, I'd suggest taking a long look at my Automator work-around for saving copies of old apps.
When others in your household need to use the original iTunes library, simply quit iTunes, relaunch it while holding down the Option key, click the Choose Library button, and navigate to the old library.