Challengers to Adobe's photo editing software are few and far between these days, and many who step into the ring with the behemoth are knocked out in the first round. With Pixelmator 2.0 ($30), the Pixelmator Team shows that it has a lot of fight in it.
As you might expect, Pixelmator shares many features with Photoshop CS 5 ( ) and Photoshop Elements 10 ( ). There's a full complement of photo editing tools and adjustments, such as red eye removal, healing brush, auto enhance, color balance, and levels. Additionally, artists will find familiar tools like the smudge, sponge, and brush (with full support for drawing tablets). Pixelmator even shares most keyboard shortcuts with Photoshop, making migration to the app markedly easier.
One of the first things you notice about Pixelmator is that the interface is incredibly clean and fluid. Palettes are streamlined, subdued, and black, and do not distract from the canvas. Navigation is smooth and slick, and some actions show additional detail as they're performed. Examples of these small but significant extras are that you'll see the current angle displayed next to the cursor when you draw out a gradient, and when you choose undo/redo, a subtle pop-up in the middle of your canvas tells you what action has been undone/redone. The only disappointment is that palettes do not snap (or dock) to each other.
Slick interface
Pixelmator's Brush palette is a perfect example of how this slick app can outstep Photoshop and Photoshop Elements. The palette shows thumbnails of all brushes within the currently selected brush set, and you can expand it to show brush settings via the contextual menu at the right. All important brush details can then be configured within a single palette, including scattering, shape, and color jitter. Photoshop provides so many controls—many which go unused by the average user—that it must spread these settings across multiple subsections. (It's also worth noting that Pixelmator supports Photoshop brushes, though the maximum size of any brush is limited to 1000 pixels.)
The app also includes vector tools that work differently than those in Photoshop. In Photoshop, you use vectors to create shapes that you can use as masks for fills or adjustments. Happily, Pixelmator's vector tools function more like those in Illustator. You can create shapes with strokes and solid color fills, and each shape is placed on its own layer. A Shape Settings palette lets you tweak the fill color, stroke color, and width and even apply a drop shadow. The tools are straightforward and easy to understand; the only limitation is that vector objects cannot contain gradients.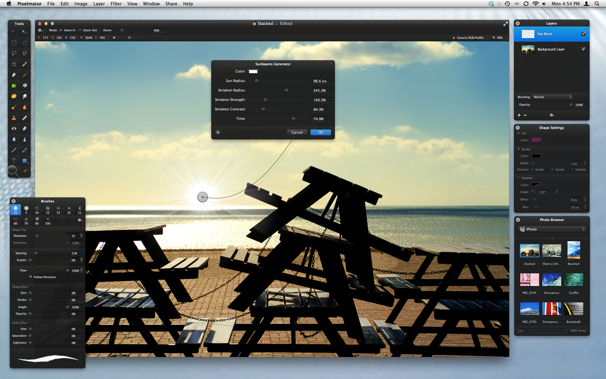 Much like other editors, Pixelmator includes a complement of filters that can add character to your images. Although many of these filters are fresh and different from what we're used to with Photoshop/Elements, it would be unremarkable were it not for the app's ingenious filter interface that allows you to easily reposition the center point of the filter by dragging a rope and pointer. Other welcome features include a Photo Browser that directly taps into your iPhoto Library, direct export to email, Flickr, Picassa, and FaceBook (as well as iPhoto and Aperture), and full support for OS X Lion (including Auto-Save and Versions).
Pixelmator's major shortcoming is its somewhat rudimentary support for layers. You can of course use multiple layers in your document, merge layers selectively, and put layers in groups, too. Layers can be blended using familiar modes like overlay, multiply and screen, and all layers (and layer groups) can also have a mask. However, the app does not include support for Fill or Adjustment Layers, a staple feature of Photoshop CS (and now Photoshop Elements). Adjustment Layers are particularly important to professional image editors, because they allow you to make adjustments to things such as color balance without permanently locking in those changes. It's not a deal-breaker for new users, but veterans might find it hard to take a step backward in functionality.
Macworld's buying advice
Pixelmator 2.0 provides an incredibly rare combination of ease of use, powerful features, and a low price tag. It doesn't offer the complete feature set of its more robust competitor, but the features it does provide rival those you'll find in Photoshop.