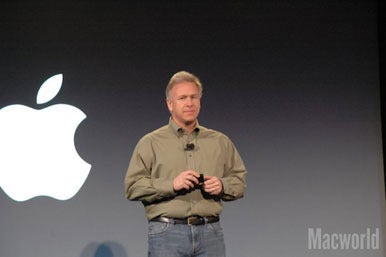 Apple announced a pair of education initiatives Thursday that the company hopes will take its iPad to the head of the class.
Speaking at a press event at New York's Solomon R. Guggenheim Museum, Apple executives showed off a new version of the iBooks e-reader app optimized for electronic textbooks as well as iBooks Author, a Mac program that can build those textbooks. In addition, Apple is taking its successful iTunes U lecture series and turning it into a mobile app aimed at including a complete set of course materials, not just lectures.
"We're so proud to take part in anything that can help students learn and achieve greatness," said Apple senior vice president of worldwide product marketing Phil Schiller, adding that education is "deep in Apple's DNA."
To that end, Apple outlined two initiatives on Thursday, aimed at reinventing both textbooks and curriculum. Not coincidentally, those initiatives center around Apple's iOS devices, with particular attention paid to the iPad.
Apple has always enjoyed a strong foothold in the education market, dating back to the days of the Apple II. While the company's education efforts took a hit in the 1990s as Apple struggled as a business, it's regained its footing in recent years, with the iPad representing a new opportunity for Apple to bring its products into the classroom. During Thursday's event, Schiller noted that there are more than 1.5 million iPads in use at educational institutions.
"There's something really profound starting to happen at Apple," Schiller told reporters. "We're on the cusp of something really great."
The way Apple sees it, iPads provide a way to get students excited about learning by delivering educational content in an engaging way. That's the thinking behind Apple's push to reinvent textbooks.
iBooks 2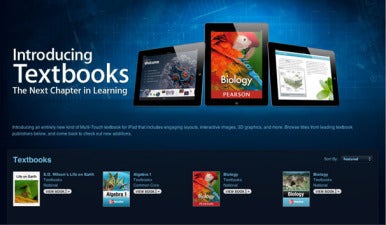 iBooks 2, which arrived on the iOS App Store Thursday, adds support for fullscreen textbooks with interactive animation, charts, photos, and videos. The app allows students and teachers to take full advantage of those textbooks with the iPad's touch interface. (The features introduced Thursday do not appear to be available on the iPod touch or iPhone.)
And that gives the iPad an edge over traditional printed textbooks, according to Schiller. The iPad is more portable than a thick textbook; you can store multiple textbooks on a single device. What's more, digital textbooks can be updated, easily searched, and include interactive multimedia that simply can't translate to the printed page. "Kids are going to love to learn with textbooks in iBooks," Schiller said.
In iBooks 2, readers can tap and zoom on any content, swipe between pages, browse thumbnails, and search for specific terms and page numbers via a dedicated search feature. The app also includes highlighting and notation capabilities, as well as a Study Card feature that converts highlighted text and notes into flash cards.
As part of the iBooks 2 update, Apple expanded its online iBookstore to include a textbooks section. As of Thursday morning, only eight books were available for download, but Apple expects that volume to increase.
Schiller says that Apple has gotten a "ton of advice" from educational publishers, including Pearson, McGraw Hill, and Houghton Mifflin Harcourt. Those three companies account for about 90 percent of the textbooks sold in the U.S., according to Schiller.
Pearson and McGraw Hill are the most visible players in the iBookstore's Textbooks section at launch. Pearson is currently selling books on biology and environmental science, with algebra and geometry offerings on the way. McGraw Hill's available textbooks cover algebra, geometry, chemistry, biology, and physics. Schiller also promised books from DK Publishing aimed at elementary-school aged kids. Three DK books are currently available on the iBookstore, in a different section from the high-school textbooks.
Apple says that textbooks will sell for $15 or less in the iBookstore. It didn't specify how it would split revenue with textbook publishers. In other areas of the company's electronic retail empire, however, Apple takes a 30 percent cut of magazine subscriptions and apps sold through its App Store; publishers and developers keep the rest.
iBooks Author
To encourage others to bring electronic textbooks to the iBookstore, Apple also introduced iBooks Author on Thursday. The free Mac app—available from Apple's Mac App Store—is a WYSIWYG editor for creating digital textbooks with interactive elements (though Schiller pointed out Thursday that other publishers could take advantage of the app's book creation tools, too).
Mirroring the interface of Apple's iWork apps, iBooks Author lets users import text from Pages or Microsoft Word; they can also insert interactive Keynote presentations and movies into documents. Widgets assist in the creation of image galleries, and other tools can add glossaries or connections to Internet databases. A live preview option allows publishers to see what the final product looks like on an iPad.
"It's easy to use, powerful, feature-rich, and authors will love using it," Schiller said of iBooks Author.
iBooks Author aids in the uploading of books to Apple's website for submission to the iBookstore. Files are output in a special iBooks format that does not appear to be compatible with any other ebook reading platforms, and Apple's licensing rules specify that the files created in iBooks Author can't be sold anywhere but on the iBookstore.
iTunes U
While much of Thursday's presentation centered on Apple's push for interactive textbooks, the company also outlined goals for reinventing classroom curriculums. The driving force behind that will be iTunes U, a free service that Apple hosts which distributes lectures and other educational content. According to Apple senior vice present of Internet software and services Eddy Cue, more than 1000 universities use iTunes U to serve up lectures; the service has logged 700 million downloads since its launch four years ago.
Apple wants iTunes U to be about more than lectures, however; to that end, it launched a free iTunes U app aimed at managing other course material via an iOS device.
The iTunes U app offers full online courses, including the course syllabus, interactive material, reading material, and more. Students will be able to grab relevant texts from the iBookstore or download class videos to watch on their iPhone or iPad. It "lets teachers and students do everything they need with an app," Cue said.
Teachers interested in distributing courses through iTunes U have several Web-based resources at their disposal courtesy of Apple. In addition to support forums, Apple offers the Web-based iTunes U Course Manager for step-by-step instructions on creating materials to be distributed via the iTunes U app.