Back when I was young, printing was complicated. Printer drivers were a nightmare of options, and standards were rare. Today, there are all sorts of standards for printing but the nightmare still continues. Even printers that sell for $50 can have multiple drivers, often support various printing protocols, have multiple driver updates—and then there is the printer installation software.
Most printers still come with some kind of installation program, and unless you're very careful, you'll find a raft of bloatware installed along with your printer. There's something weirdly eccentric about the whole printer business.
In 2010, Apple finally included something that we'd been waiting for: A way to print from iPads and iPhones. This feature called AirPrint initially supported only 12 printers, which were all in the HP Photosmart Plus e-All-in-One series, a range of multifunction printer, scanner, and fax devices.
Since then, Canon and Epson have both added AirPrint support, but there are still many printers that aren't AirPrint compatible. So, what can you do if you are an iPhone or iPad owner and don't have one of the anointed printers? Consider the Lantronix xPrintServer.
The xPrintServer is a small device (0.875 by 2.25 by 4.5 inches) with a cool glowing "X" on the top surface. You plug in the power adapter, connect the xPrintServer to your Ethernet network, and off it goes. After a few minutes, the glowing "X" on the xPrintServer will start to slowly pulse and it's ready.
The xPrintServer implements the Common Unix Printing System (CUPS) and, when it starts up, it scans your network to find all of the printers presenting the HP JetDirect interface (also called AppSocket), the Line Printer Daemon (LPD) Protocol, or the Internet Printing Protocol (IPP).
CUPS handles all of the ugly details of translating images, text, PDF data, and HP/GL data into formats that the various supported printers can output. The current printer compatibility list can be found on Lantronix's website.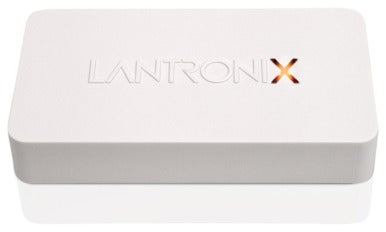 The xPrintServer provides a Web-based administration interface so that you can update the firmware, configure printers, and manage print jobs, but the truly beautiful thing about this product is that you may never have to do any configuration at all.
You plug the xPrintServer into your network, power it up, and within minutes you'll be able to print from your iOS device to almost any printer whether or not it directly supports AirPrint.
Under iOS in any application that supports printing, you just tap the Action button (the one with the arrow coming out of a square), tap the Print button, select an available printer, configure any available options displayed, and voila! That's it—simple and painless.
Lantronix recommends an xPrintServer for every seven to 10 printers on your network that you want to make available via AirPrint.
Priced at $149, the Lantronix xPrintServer will ship in February.
Photosmart Plus e-All-in-One Printer series—B210
Note: When you purchase something after clicking links in our articles, we may earn a small commission. Read our affiliate link policy for more details.