iBooks Author is an intriguing app and a a big deal for publishers. But while the app is obviously very new, some aspects of the software give me pause. Here are my questions for Apple about the iBooks Author. (And yes, I've sent them all Apple's way, though I haven't heard back just yet.)
Why the tough license terms?
If you want to sell the iBooks Author-created books you build, your only option to do so is through the iBookstore. You retain the right to freely give away your books elsewhere, but the End-User License Agreement (EULA) says that if you want to sell iBooks Author-created ebooks, you must go through Apple—and thus cut Apple in on any money you make selling your works.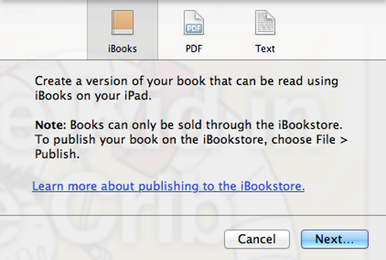 I'd like Apple to explain its justification for this policy. I understand the argument that Apple is giving away the app for free, and thus deserves to find a way to profit from it. But Apple gives away GarageBand with every new Mac, and doesn't require that you only sell the songs you create with that app through the iTunes Music Store. I've written a book in Apple's $20 Pages app and didn't need to cut Cupertino a check for a single cent of my advance or royalties. Could I pay Apple $20 for iBooks Author and then have permission to sell my book wherever I'd like?
Daring Fireball's John Gruber wrote, "Let's hope this is just the work of an overzealous lawyer, and not [Apple's] actual intention." I share John's hope, but I'm not optimistic. This limitation is spelled out explicitly both within the app and Apple's online documentation for it.
Why such limited export abilities?
After Apple's education event in New York, senior associate editor Dan Moren and I asked an Apple spokesperson why iBooks Author didn't support exporting to the ePub format. The reply was that ePub can't support the many interactive elements offered in Apple's new iBooks Author filetype. But that answer doesn't jibe: iBooks Author can export to PDF and text, and neither of those formats supports inline slideshows or HTML widgets, either. I believe Apple's real justification for not supporting ePub is to lock in publishers to the iPad. And I believe that goal is a shortsighted one.
With iBooks Author as it is, publishers must now decide whether to create multiple ebook variants for different audiences, or to create a much easier, lowest-common-denominator solution. I'd imagine that creating a multimedia-rich book that only works on iPads is less appealing if you also need to spend time designing a text-and-images book for Kindle, Nook, and the rest. If Apple were to let iBooks Author export stripped-down versions of ebooks created within the apps, publishers could build their books once, offering iPad users the most interactive versions of their books—without needing to custom-build new versions of the book in other software for everyone else.
Why make it hard for self-publishers?
Publishing to the iBookstore still requires an ISBN. Amazon lets authors self-publish books without one. Anyone can buy an ISBN online, and the process isn't especially difficult, but it does take time and money: Purchasing an individual ISBN will likely set you back around $100. Perhaps Apple could offer to sell you an ISBN when you submit your book to the store, since Apple could buy the numbers in bulk for much less. ( Bowker sells one ISBN for $125, but 1000 ISBNs for $1000).
iBooks Author seems like a potentially impressive way for Apple to let amateurs or unpublished authors create rich, interactive, immersive iPad books to sell independently on the iBookstore. Apple should either drop the ISBN requirement, or make it easier on beginners to get one as part of the publishing process.
Why leave out the iPhone and iPod touch?
At the event, when Macworld asked whether iBooks-author created books would work on the iPhone, the company's only response was "The books are optimized for the iPad." What Apple meant by that, as we now know, is simply this: iBooks Author creations don't work on the iPhone or iPod touch.
That's understandable: Squeezing, say, a three-column layout onto the iPhone's screen would be foolish. Even the portrait-orientation view for iBooks Author books—which places images and media in a column at the left, and the text to the right—wouldn't quite fit the iPhone's smaller screen. But Apple's designers surely can come up with some brilliant solution. If Apple's goal is, as stated, to improve education, it needs to find a way to make these new, immersive textbooks more ubiquitous. Sure, there are lots of iPads out there, but I'll bet many parents prefer to trust their kids with the far-cheaper iPod touch. But that device simply can't read books created with iBooks Author.
What's Apple's recommendation to publishers who want their books viewable on both devices? Are publishers permitted to sell two versions of their books in the iBookstore, one for iPad users only, and a second, flatter ePub that works on all iOS devices? Should those two versions be available for a single purchase?
Open questions
I am impressed by the technology on display in iBooks Author and iBooks 2. I'm excited to see what talented authors and publishers can create. As I said at the outset, I do believe that Apple's merely kicked off iBooks Author and that there may well be plenty more to come. At the event on Thursday, Apple executives said the company's goal is truly to improve education and empower authors to create ever-better digital books. Of course, the company also needs to sell iPads. I believe it can do both without limiting where customers sell iBooks Author-created books, without limiting the software's export options, and without leaving the iPhone and iPod touch in the lurch.
[Staff writer Lex Friedman has yet to get a book published that he'd be comfortable with his children reading.]