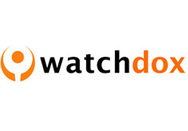 Thanks to the Bring Your Own Device trend sweeping through workplaces across the country, smartphones and tablets are increasingly popping up at the office. And that means a lot of workers are able to access and share sensitive work-related documents on their personal iOS devices. In fact, a report published last week by IDG Connect found that 91 percent of businesses have deployed the iPad. But since company IT administrators can't possibly control every employee's personal device, those documents aren't necessarily secure—devices can get lost or stolen, for instance.
WatchDox, a document sharing and reading service provider, wants to tackle this problem by offering a secure platform for businesses to share, manage, and track their sensitive documents. WatchDox's iOS offering has been available since 2010, but on Monday the company announced new collaboration features it hopes will enhance the way enterprises use the iPad and iPhone.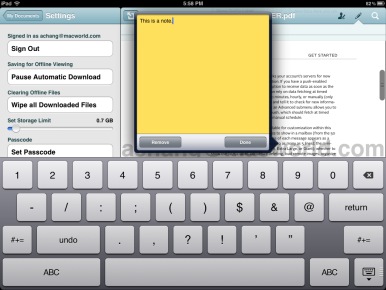 The updated iOS app lets users annotate directly on their WatchDox-secured documents, as well as collaborate with other authorized users—coworkers or clients, for examples. Annotations are easy to add: Just select the comment bubble and double tap to add a note; select the highlight tool to tap and drag to highlight specific passages. The collaboration aspect comes into play when users share their notes and highlights with one another. According to the company, this is the first enterprise-grade secure platform that has this level of collaborative capability.
Ryan Kalember, vice president of strategy for WatchDox, says that the company's service is currently in use with businesses ranging from security companies like Palo Alto Networks to large financial institutions. For example, wealth management advisers can, instead of printing out pages of financial documents, bring their iPads to clients and have access to everything their company knows about the account (via WatchDox's annotion feature). Kalember told Macworld that WatchDox will continue to focus on this collaboration angle for the long-term.
The app maintains all of WatchDox's other features, including the ability to access your virtual data room—the secured online storehouse for documents—and control, track, protect, and remotely destroy documents. The app is available for free in the App Store and requires iOS 4.0 or later; cost of WatchDox's service depends on business size and needs.