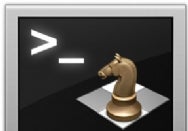 Reader Ted Adams is particular about what is and isn't in his Mac's Applications folder. He writes:
Is there any way to get rid of the applications I have no use for that are included with Lion? I never use GarageBand, Stickies, Calculator, Chess nor several others. They do nothing more than clutter up my Applications folder. How do I trash them?
As you've likely noticed, many of these applications can't be trashed the normal way. When you attempt to drag Chess, for example, to the trash, you're told that it's required by the OS. This is nonsense, of course. In truth, Apple locked down many of its applications so that they can not be easily disposed of. This is to protect newbies from doing the Bad Thing by chucking applications they may someday need.
But it's your computer and if you don't want these applications, by all means, give them the boot. The easiest way to go about this is to launch Terminal (found in /Applications/Utilities) and, at the prompt, enter sudo rm -rf followed by a space and then drag into the Terminal window the application you want to delete. If you were to drag in the Chess application the command would read sudo rm -rf /Applications/Chess.app.
Press Return and you'll be prompted for your administrator's password. Enter it (no characters will appear on screen) and press Return. The application will be entirely deleted from your hard drive.
Note: That sudo command coupled with rm -rf is very powerful magic. The first command temporarily grants you god-like powers over your Mac. The second allows you to delete anything you like—even the contents of your hard drive if you're not careful. So, please, be careful.
By the way, if you're serious about deleting GarageBand, be sure to visit the Library folder at the root level of your hard drive and open the Audio folder. Within you'll find an Apple Loops folder. Dig down until you locate the Apple Loops for GarageBand folder. You can delete that as you won't be using these loops.