As it has in the past, Macworld will host the Macworld Live stage at Macworld|iWorld. Starting Thursday, January 26, those attending the show or watching Macworld's live stream can see some of their favorite editors interviewing and interacting with well-known individuals from the world's of technology and the creative arts. You'll find a link to that live stream on Macworld's home page starting on Thursday. Here's what you'll find on stage:
Thursday, January 26
11:00 – 11:50 AM: iFixit Live
Macworld's Chris Breen and the folks at iFixit talk about repairing your broken Apple gear.
12:00 – 12:50 PM: Playing in the Sandbox: Developing for Apple's App Stores (Or Not)
Macworld's Dan Moren and a group of developers discuss developing apps for Apple's App Store and Mac App Store.
1:00 – 1:20 PM: BrainShark: Play PowerPoint Properly on your iPad.
A sponsored session led by Jay Wilder, Director of Freemium Product Marketing, Brainshark
1:30 – 1:50 PM: Soonr: Smart ways companies are using the iPad to do business faster.
A sponsored session let by Martin Frid-Nielsen, Co-founder and CEO of Soonr
2:00 – 2:50 PM: Macworld Pundit Showdown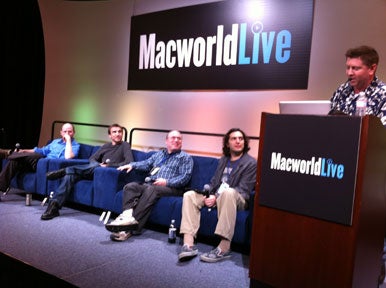 Macworld's Philip Michaels hosts a panel of experts who square off in a battle of punditry, tackling the burning issues of the day and scoring points for hard-hitting answers.
3:00 – 3:50 PM: Original iPhone Film Festival
Macworld's Jason Snell and the founders of the Original iPhone Film Festival talk about iPhone filmmaking. Their grand prize will be revealed on stage.
4:00 – 4:50 PM: The State of Apple
Macworld's Jason Snell, Andy Ihnatko, and John Gruber discuss where the new, Tim Cook-led Apple will go in 2012 and beyond.
Friday, January 27
11:00 – 11:50 AM: Creativity in the Digital Age
Chris Breen is joined by painter Bert Monroy, photographer Eduardo Solér, and musician Steve Lipson to talk about the effect technology has had on their creative work.
12:00 – 12:50 PM: Mac 911 Live
Macworld's Serenity Caldwell hosts Chris Breen, Ted Landau, and Dan Frakes to discuss today's major Mac and iOS troubleshooting issues.
1:00 – 1:20 PM: Dolly Drive: Simplifying how Mac users use the Cloud
A sponsored session hosted by Anthony Palermo, Creator, Dolly Drive and Dave Hamilton, CEO, The Mac Observer
2:00 – 2:50 PM: Super Art Fight
Ross Nover and Marty Day host the Super Art Fight, a battle of virtual brushes, wits, and time. Includes artists Brandon J. Carr, Jamie Baldwin, and Jamie Noguchi.
3:00 – 3:50 PM: Best of Show
Macworld's Roman Loyola presents the Best of Show Awards to the outstanding products found on the show floor.
4:00 – 4:50 PM: The Incomparable Live
Jason Snell hosts a live rendition of The Incomparable podcast and is joined by Serenity Caldwell, Dan Moren, and Glenn Fleishman in a geeky conversation about the intersection of sci-fi and technology.
Saturday, January 28
11:00 – 11:50 AM: Take Control and E-publishing
The old model of paper-based books and periodicals is changing. Chris Breen is joined by e-publishers Adam and Tonya Engst as well as member of their Take Control and TidBITS crew to discuss digital text from a publisher and writer's perspective.
12:00 – 12:50 PM: Cool Products from the Show Floor
Serenity Caldwell talks about some of the cool products she's discovered on the show floor. She's joined by several product and gadget makers to discuss their work.
2:00 – 2:50 PM: Less Than Perfect: Apps we love, their flaws, and how to fix them
We love great software, but even the best software has flaws. The panel hosted by Lex Friedman and featuring Glenn Fleishman, John Gruber, Paul Kafasis, Guy English, and Dave Wiskus will discuss such flaws in their favorite apps, their ideas for fixing them, and why it's so hard for even the best apps to achieve perfection.
3:00 – 3:50 PM: Macworld|iWorld Wrap-up
Chris Breen hosts Jason Snell, Dan Frakes, Serenity Caldwell, and Dan Moren to discuss everything that was Macworld|iWorld.