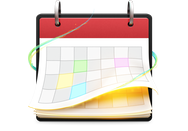 Developer Flexibits on Tuesday released version 1.2 of the company's flagship product, Fantastical ( ). The app, which won a 2011 Editors' Choice Award, provides a menu-bar-based calendar and a running list of upcoming events, letting you manage your calendars without having to open your standard calendar program or website. You can even create new events by typing natural-language descriptions. The program supports calendars hosted by iCal, BusyMac's BusyCal, or Microsoft's Entourage or Outlook, as well as those hosted by MobileMe, iCloud, Google Calendar, or Yahoo Calendar.
Version 1.2 provides full localization—including language detection and comprehension—for French, German, Italian, and Spanish. It also includes improved parsing of repeating-event descriptions across all languages.
Fantastical requires Mac OS X 10.6 or later; version 1.2 is a free update for existing customers. For new customers, Fantastical is $20 from the Mac App Store or directly from the Flexibits website.