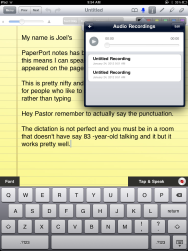 Nuance has upgraded its new PaperPort Notes note-taking iPad app, integrating the company's much-lauded Dragon Dictation software—making it possible for users to speak their notes and see them appear as text.
The update to PaperPort Notes appeared last week in the App Store. Other note-taking apps—like Pear Notes, Notability, and CaptureNotes 2—all have built-in recorders that allow a user to record lectures and interviews; the first two even sync those recordings to your typed notes. But none of those apps can convert recorded audio to visual text—giving PaperPort Notes a voice-recognition leg up on its rivals. The text may not always match your dictation perfectly, particularly if you're in a noisy room, but it's close. The app also keeps a copy of your recordings, in case you need a reminder of precisely what you said.
Nuance, of course, already offers a Dragon Dictation app for iOS, which also converts speech to text. That, however, is pretty much all the Dragon Dictation app does. PaperPort Notes, meanwhile, offers users the ability to type or write—using a stylus—their thoughts; stylus users can choose the color and thickness of the "ink" they write in.
Notes taken in PaperPort Notes can be shared in Nuance's own PaperPort Anywhere cloud storage, in Google Docs, via Dropbox, or using several other services. Documents can also be opened in PDF format with any PDF-reading app on your tablet.
PaperPort Notes is free, and is compatible with iPads running iOS 4.2 or later.