In this week's roundup of new—or newly announced—iOS accessories, we've got a heavy emphasis on music making.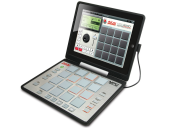 Akai Pro: DJs have always been big fans of Apple products, including the iPad. Akai Pro's new MPC Fly is a double-hinged case that opens up to reveal a full suite of music production hardware. Used in conjunction with the MPC Fly iPad app, the system lets users record and overdub music sequences along four tracks simultaneously. A variety of effects are available, and recorded tracks can be saved to Soundcloud, Facebook, or Twitter. The device was introduced at the National Association of Music Merchants show last weekend. Akai hasn't yet said when the MPC Fly will ship.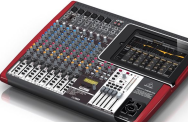 Behringer: Also at the NAMM show, Behringer introduced its line of Xenyx iX mixers, all of which feature a built-in iPad docking station. The devices let iPad users record and craft music using 32 editable presets such as reverb, chorus, flange, delay, and other effects. Behringer did not offer price or shipping information for these Xenyx iX mixers.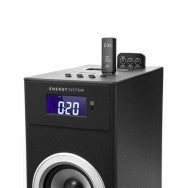 Energy Sistem: The $142 Energy Docking 300 is a wood-bodied docking speaker system that can be paired with your iPhone or iPod touch to project three-way sound. This tower-of-power can also be used in conjunction with your entertainment system, and includes its own FM radio and digital clock.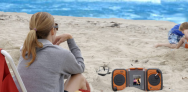 Grace Digital Audio: Afraid to use your iPhone and speakers at the beach? No worries with the Eco Terra boombox, a waterproof speaker system that can both float and be completely submerged while still protecting your iOS device. Above the surface, Eco Terra's boombox can run 25 hours on four C-cell batteries, pumping out music from a pair of three-inch speakers. The boombox isn't yet available for purchase.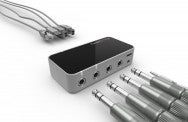 iConnectivity: Musicians looking for a "palm-sized personal mini-mixer" that works with their iOS device may look to the new $230 iConnectMuse. This gadget includes two USB device ports, a hub-able USB host port, two input and two output audio jacks, a headphone-monitor jack, an ethernet connection for network sharing, and a MIDI pass-through interface. The iConnectMuse will be available this spring.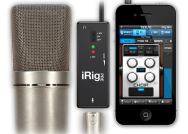 IK Multimedia: IK Multimedia is known for products that help musicians get the most out of their iOS devices, and the company just introduced two more products to assist in that mission. The $40 iRig Pre is a "microphone interface" that lets users connect any type of microphone to their iOS device—not just those built for use with iPhones and iPads. The $30 iKlip Studio is an iPad stand designed to give musicians easy access to the tablet's apps while keeping cables organized and out of the way.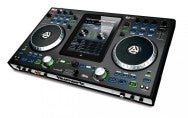 Numark: The iDJ Pro Premium DJ Controller docks your iPad between two turntables and works in conjunction with Algoriddim's Djay app, which lets users move seamlessly between the music in their iTunes library and vinyl records spinning on the attached turntables. The device is also AirPlay compatible. Numark has not yet announced price or shipping information.
Tallon: Want to safely access your iPad while driving? Tallon's new $70 Elite Socket mounts your tablet to the dash of your car and leaves both USB and 12-volt power connections accessible along the way. Alternatively, the Elite Socket can support an iPhone or MacBook in lieu of an iPad. The mount lets drivers safely listen to music, use their iOS device as a GPS guidance system, and power their device while in transit, according to Tallon.
Ten One Design: Ten One has a pair of new, interesting products—an iPad stand and a stylus line. The $50 Magnus stand uses magnets to hold your iPad in place, with options for portrait or landscape orientation. The $15 Pogo Sketch Plus line of styluses provides a new-and-improved capacitative tip to the company's venerable line of Pogo Sketch touchscreen writing tools. Each stylus includes a clip to attach directly to your iPhone or iPod touch, but does not—unlike some of the company's other stylus lines—come with extra replacement tips.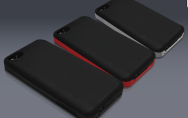 USBFever: Like Ten One Design, USBFever also has two products out this week that caught our eye. The $63 Tunemax Energy Jacket is a case for the iPhone 4 and 4S that also provides battery-backup power to the phone. Second up is the $9 USB OTG cable, which lets you transfer data files from devices with USB interfaces—such as digital cameras, USB keyboards, and memory card readers—to your iPad.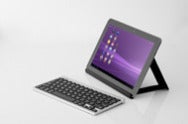 Zagg: The $80 ZaggKeys Flex Tablet Keyboard & Stand is a portable, two-piece system that includes a Bluetooth keyboard—it's clearly designed for your iPad, but it can also be used with your iPhone. The keyboard has a lithium battery that ZAGGKeys claims can be used for several months before recharging is necessary. The kit includes a Micro-USB charging cable.
iPhone 4S family
Price When Reviewed:
$599