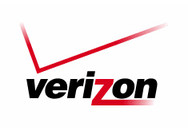 Verizon Communications on Tuesday reported a $2.02 billion fourth-quarter loss, mostly due to one-time charges of $3.4 billion for severance, pension and benefits, as well as increased subsidy costs for iPhone sales.
The quarterly loss, which was 71 cents per share, compared to $2.64 billion in profit in the same quarter a year ago. Not counting one-time charges, Verizon posted earnings per share of 52 cents, just missing analyst estimates of 53 cents.
However, Verizon quarterly revenue of $28.4 billion, up 7.7 percent, represented the largest fourth-quarter, year-over-year increase in the company's 11-year history, it said. The rise in revenue was driven by mobile and broadband growth.
"We had a strong finish to a very solid year in 2011," CFO Fran Shammo said during a conference call. "We have transformed ourselves to a company well-positioned for the growth markets of the future."
Verizon reported $18.3 billion in mobile revenue, up 13 percent from the last quarter of 2010. Mobile data revenue was up 19.2 percent.
The company added 1.5 million mobile customers during the quarter, ending the year with 108.7 million total connections. Smartphones represented 44 percent of Verizon's retail postpaid customer base, up from 39 percent at the end of the third quarter, with Apple iPhone and Android devices driving the growth, company officials said.
Verizon added 201,000 Fios broadband and 194,000 Fios television customers in the quarter. The company, with a net increase of 98,000 broadband customers, now has 8.7 million broadband subscribers. Fios revenue grew 20 percent over the fourth quarter of 2010, Verizon officials said.
Verizon's fourth-quarter wireline revenue, including broadband, was $10.1 billion, down 1.5 percent from a year earlier.
The company's global enterprise revenue grew 1.3 percent to $3.9 billion.
For the full year of 2011, Verizon reported revenue of $110.9 billion, compared to $106.6 billion for 2010. Net income for each year was about $10.2 billion, or $2.4 billion for 2011 and $2.5 billion after taxes and deducting Verizon partner Vodafone's share of the profits.