The paperless office seems like a goal that you always strive for, but you never really accomplish. At Macworld | iWorld, FileThis introduced what it hopes will make the paperless office more of a reality. FileThis Fetch is a new online service that helps gather and organize your financial statements.
For $2 a month, FileThis Fetch will get the statements from the institutions you've entered into your account. The institution must be part of the FileThis Fetch network, and the company says that about 50 institutions are supported, including major banks such as Bank of America, Citibank, Wells Fargo, and Chase; credit card companies such as American Express and Discover; service providers such as Verizon, AT&T, and Comcast; and other institutions such as Aetna, PG&E, Allstate, and Geico. And more companies are being added.
FileThis Fetch uses a Web-based interface, so you can access your FileThis Fetch account from any Internet connection. But you probably won't visit the FileThis Fetch site very often; once you configure your account with your institutions, FileThis Fetch acts in the background, automatically. Fetch will send you an email when statements are available.
At the product's launch, you can configure FileThis Fetch to save statements to an Evernote account, or in a specified folder on your Mac. If you decide to do the latter, you have to use a FileThis Fetch application that you download to your Mac to configure your account, instead of the Web interface. A FileThis representative said that the company is working on support for Dropbox and Google Documents.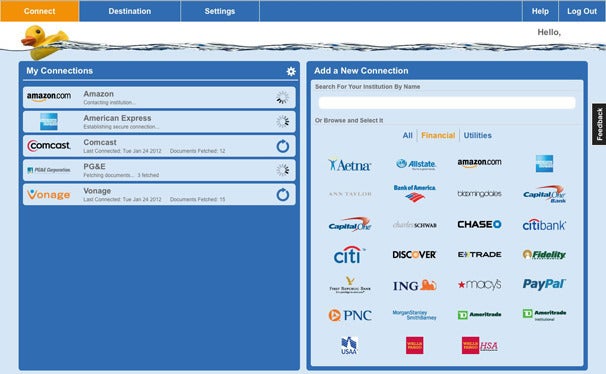 When using FileThis Fetch with Evernote, new Evernote Notebooks are created for each institution, and your statements are filed in that notebook. If you save statements on your Mac, then FileThis Fetch creates folders for each institution and saves the statements in the appropriate folder.
You can't pay your bills through FileThis Fetch; it's only a service to retrieve and help organize your statements. Sure, it's a simple task to go and get your statements manually, but if you're gathering documents from multiple institutions, a service like FileThis Fetch can help save a lot of time and effort, for a small price.
FileThis Fetch is being shown in the OS X Zone (booth 228) at this week's Macworld | iWorld show in San Francisco's Moscone West exhibit hall.