Record-breaking iPhone, iPad, and Mac sales rang in a stellar start to the 2012 fiscal year for Apple. The company said on Tuesday that it tallied $46.33 billion in sales and $13.06 billion in profit for the fiscal first quarter ended Dec. 31.
Both the revenue and profit figures were quarterly records for Apple and blew away the numbers recorded in the year-ago quarter. Sales rose 73 percent from last year's figure of $26.74 billion; profits more than doubled from the $6 billion earned in the fiscal first quarter of 2011.
Apple earned $13.87 per share for the just-completed quarter, up 116 percent from last year. That handily beat consensus analyst estimates of $10.08 per share. Analysts were expecting Apple's sales to come in at $38.85 billion.
"We are very proud of these results and extremely pleased with the momentum of our business," Apple chief financial officer Peter Oppenheimer told analysts during a conference call to discuss the company's results. Noting the record sales across three of its major product offerings, Oppenheimer hailed what he called the "strongest product lineup in Apple's history."
Apple's strong performance during the quarter comes with a minor caveat. To align the fiscal first quarter with the end of the calendar year, Apple's quarter ran 14 weeks—that's an extra week over the typical fiscal quarter.
iPhone sales
Back in October, Apple CEO Tim Cook predicted an "all-time" record for iPhone sales during the holiday season, and the company made good on that forecast. The company sold 37.04 million phones during a quarter which saw the release of the iPhone 4S. That's a 128 percent jump from the iPhones sold during the year-ago quarter, and it tops the previous record for iPhone sales of 20.34 million units sold during 2011's third quarter.
Apple reported $24.4 billion in recognized revenue from its iPhone product line, up from $10.5 billion in the year ago. While Apple doesn't break out sales by model, Cook noted that the 4S was the most popular of the smartphones sold by Apple. (The company also sells a $99 iPhone 4 and offers a free iPhone 3GS with a two-year service agreement.)
Noting that iPhone sales growth far outpaced the 40 percent growth rate for the rest of the smartphone market, Cook credited a "breath-taking customer reception" of the iPhone 4S for the strong performance of Apple's smartphone business. Cook also acknowledged that Apple likely benefited from delayed purchases, as customers held off on buying new iPhones until the iPhone 4S's October release.
Those sales came as Apple dealt with supply shortages for most of the quarter, as it struggled to meet high demand for the iPhone. "We thought we were betting bold," Cook told analysts. "As it turns out, we didn't bet high enough. Our customers are loving the iPhone 4S, and we're very happy with that."
The U.S. and Japan saw particularly strong iPhone sales, as those countries had the 4S available throughout much of the quarter. Cook also noted that demand for the iPhone in China was high—noteworthy, as the iPhone 4S didn't arrive in that country until earlier this month.
Along with China, Apple brought the iPhone 4S to 21 more countries in January. The phone is now available for sale in 90 countries. That makes it the fastest iPhone rollout in Apple's history, according to Oppenheimer.
iPad sales
The iPad also enjoyed record sales during the quarter, with Apple selling 15.4 million tablets. That's an increase of nearly 111 percent from the 7.3 million iPads sold during the year-ago quater.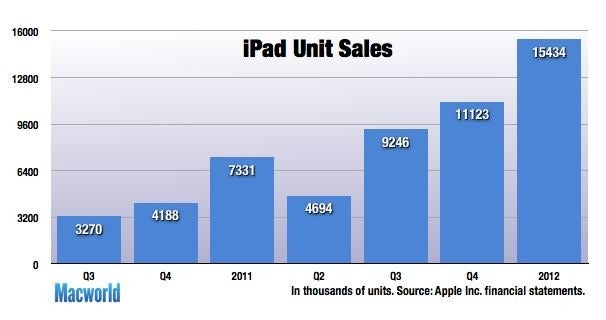 Recognized revenue from the iPad line jumped 99 percent to $9.1 billion, up from $4.6 billion in last year's quarter.
Since releasing its first iPad a little less than two years ago, Apple has sold 55 million tablets, according to Cook.
"Last year was supposed to be the year of the tablet, and I think most people would agree with was the Year of the iPad for the second year in a row," Cook said. "We're going to continue to innovate like crazy in this area, and continue to compete with anyone that is currently shipping tablets, or that might enter in the future."
Looking at all products that run the iOS mobile operating system, Apple says it's sold 315 million cumulative iOS devices, with 62 million of those devices being sold in the just-completed quarter.
One of those iOS devices—the iPod touch—accounted for more than half of the iPods sold by Apple during the holiday season. That's a bright spot in the otherwise stagnant iPod segment—sales dipped 21 percent for the quarter to 15.4 million units.
Still, Apple says that the iPod still continues to command a 70 percent share of the MP3 player market, and its music player remains the top-selling device in most of the countries the company monitors.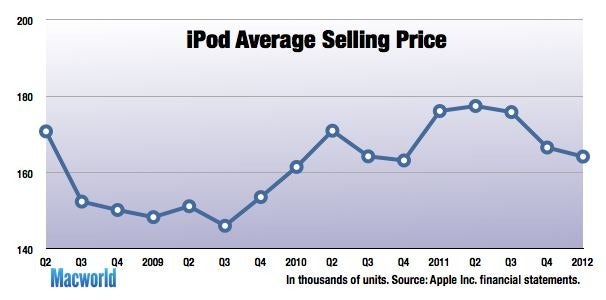 Mac sales
Apple completed its hat trick of product line records by selling more Macs during the first quarter than in any previous quarter. The company says it sold 5.2 million Macs, a 26 percent increase from the year-ago quarter. Oppenheimer said the growth was driven by strong MacBook Air, MacBook Pro, and iMac sales
Sales of both desktops and laptop topped quarterly records as well, though laptops continue to drive the company's Mac business. Apple sold 3.7 million portables during the quarter, nearly 72 percent of the total Macs sold.
The strong Mac sales come at a time when the rest of the PC industry is struggling with stagnant growth. Oppenheimer noted that research firm IDC forecasted a flat growth rate for the quarter—a figure that Apple easily outpaced. It's the 23rd consecutive quarter that Apple's Mac business had outgrown the overall PC market.
In fact, Apple outgrew the PC market in each of the geographic regions it does business. Growth was particularly strong in the Asia Pacific region, where Mac sales grew 58 percent.
Pressed by analysts about sales of the iPad eating into Mac sales, Cook conceded there was probably some cannibalization, but he believes "there is much more cannibalization of Windows PCs and many more of them to cannibalize." Since the iPad's April 2010 release, Cook noted that Apple has sold 40 million Macs.
Apple retail
On the retail front, Apple's 361 stores brought in $6.1 billion in revenue for the quarter, up from $3.85 billion last year. The stores reported strong year-over-year growth across all product lines—Apple sold 1.1 million Macs through its retail stores, for example, with half of those going to customers new to the platform. Average store revenue rose from $12 million last year to $17.1 million.
Apple says 110 million people visited its stores during the holiday quarter, an increase of 45 percent from last year. That works out to a weekly average of 22,000 visitors per store. Oppenheimer credited two initiatives—Apple's EasyPay self-checkout process and Personal Pickup, where customers shop online and pick up products at the store of their choice.
Apple opened four stores during the quarter—one in New York's Grand Central station and the other three in Europe. Oppenheimer usually provides an estimate of planned store openings for the coming quarter, but that was absent this time around. In September, Apple said it would open 40 new stores in 2012 with three-quarters of those slated for outside the U.S.
Other tidbits
Apple's call with analysts also produced a number of interesting facts and figures about some recent product releases and a less heralded part of the company's lineup.
Apple says that 85 million people have signed up for iCloud, the company's suite of wireless syncing and backup services launched in October.
More than 600,000 copies of iBooks Author have been downloaded since Apple unveiled the free ebook creation tool at last week's education-centric press conference. Downloads of iTunes U, an iOS app also introduced at that event, have topped 3 million. Apple did not disclose how many textbooks have been purchased from the iBookstore, however.
Apple trotted out updated figures for its iOS App Store, which now contains 550,000 apps. Of that total, 170,000 are iPad-specific. Apple said that by the end of the month, iOS developers will have pocketed $4 billion cumulatively from their share of App Store sales.
Confirming earlier reports of heavy App Store activity on Christmas, Apple reported 140 million downloads of apps and content on December 25 alone.
Apple rarely discusses sales figures for its Apple TV set-top box in quarterly earnings calls, but Cook said the device set a quarterly sales record with 1.4 million Apple TVs sold during the holiday season. That compares to 2.8 million sold during the entire 2011 fiscal year.
Second quarter forecast
Apple ended its first quarter with $97.6 billion in cash, up from $81.6 billion at the end of the September quarter. Oppenheimer said that Apple was "actively discussing uses of our cash balance," but added that there was nothing to share at this time.
Looking ahead to the second quarter ending in March, Oppenheimer told analysts to expect $32.5 billion in revenue and earnings per share of $8.50. That compares to revenue of $24.67 billion and earnings of $6.40 a share in the 2011 second quarter. Analysts are looking for earnings of $8.03 a share on sales of $32.04 billion.
Updated at 2:02 p.m. PT with iPhone sales figures. Updated at 2:27 p.m. PT with charts. Updated at 2:48 p.m. PT with more iPhone data and quotes from Apple's conference call. Updated at 3:03 p.m. PT with iPad and iPod sales figures. Updated at 3:22 p.m. PT with Mac sales. Updated at 4:19 p.m. PT with Apple retail numbers.
This article was updated on February 15 to correct the number of quarters Mac sales have outgrown the overall PC market.