While iPad textbooks have been making news as of late, ebooks in general are a pretty familiar sight on the iPad. While some ebooks are mere digital "ports" of their printed counterparts, others, like Kite Readers' new Be Global ebook takes the print version and adds interactive elements to enhance the experience. Be Global is being unveiled at Macworld | iWorld this week to coincide with its availability on the iOS App Store.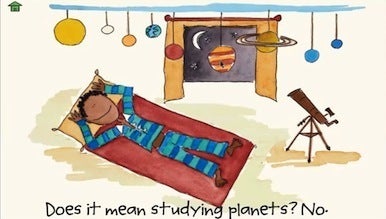 Based on the book, What Does it Mean to be Global? by Rana DiOrio, the ebook introduces kids to different cultures around the world. In addition to having the printed book in its entirety, each page offers tapable elements that show more educational material. Be Global also presents its content in two languages, English and Spanish, and you can read the book yourself, or have the book read aloud by the app.
Be Global also has a coloring book mode, a journal mode where kids can keep a travel journal, and a lesson plan mode for teachers who want to integrate Be Global into the classroom.
Be Global is a $4 universal app (though it's debuting with a $1 price tag). The company's suggested reader age is four to eight years old. Be Global is on display at the booth of app publisher SachManya in the Mobile Apps Showcase (booth 818) at Macworld | iWorld in San Francisco's Moscone West exhibit hall.