I previously covered Yoink 1.0, a neat utility that provided a virtual shelf for temporarily storing content. As I explained at the time, moving an item between two different locations in your drive's folder hierarchy, or between drives, usually involves opening two Finder windows: one for the folder currently hosting the item, the other displaying the place to which you want to move the file. Mac OS X's pop-up folders can help, but, among other drawbacks, still require that the destination folder (or at least some folder or drive enclosing it) be visible in the Finder or in the Dock. Similarly, if you use OS X's Spaces feature, it can be a hassle to move files between windows (and programs) in different workspaces, and Lion (Mac OS X 10.7) adds the challenge of dragging files and folders to apps that you use in full-screen mode—there's no easy way to do it.
Yoink's shelf made such moves easier, although back in September I classified it as a Promising Prospect because of a number of limitations. The developer recently released Yoink 2.0 ( Mac App Store link), and it brings enough improvements to warrant another look.
With Yoink running, whenever you start dragging a file or folder in the Finder, a small shelf slides out from the side of your screen. Drag your item onto the shelf to temporarily store its icon. (The actual item remains—for now—in its original location.) You can then navigate to the destination location, in the current Finder window or in a new one, and then drag the item's icon off the shelf and into the destination folder to perform the actual move.
The shelf appears in every workspace, making it handy for moving files across workspaces and into full-screen apps. Just as if you'd used the Finder, if the destination is on the same volume as the original, the item is moved; if the destination is on a different volume, the item is copied.
Yoink 2's shelf still shows only three items at a time, presenting a scroll bar if you drag more than three items into it. The Quick Look icon next to an item gives you a quick preview of that item, but in version 2, that preview is larger, making this feature more useful. Dragging an item off the shelf removes the item from the shelf, but you can also remove an item by clicking the X button next to its icon—the original item (in the Finder) is unaffected. There's also a new broom-icon button that clears all items from the shelf with a single click.
After moving an item onto the shelf, the shelf remains visible until you empty it (by dragging all of your temporary files to their destinations or by deleting those items from the shelf). However, unlike with the original version of Yoink, Yoink 2 provides a few ways to hide a populated shelf: You can choose Show/Hide Yoink Window from a new systemwide menu, you can choose a similar option from the shelf's Action (*) menu, or you can press a configurable Yoink hotkey (keyboard shortcut). However, I had problems with the last of these options, as when I configured my preferred keyboard shortcut in Yoink's Preferences window, the program wouldn't recognize modifier keys. For example, if I choose Shift-Control-D for my shortcut, the correct shortcut showed up in Yoink's settings window, but the program recognized D by itself…which meant I couldn't type the letter D in text.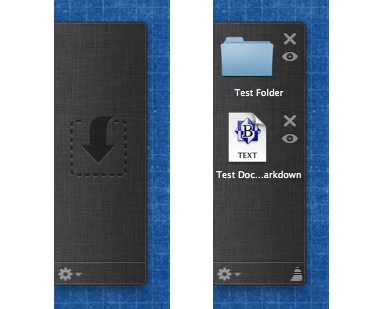 Also new in version 2 is the capability to drag content, rather than just files, to Yoink's shelf. For example, you can now drag a snippet of text from a document, or even an image from a webpage, onto the shelf and later drag it into a different document or application. There are a couple caveats here: First, sometimes dragging text from a document doesn't automatically make the shelf appear; at times I had to use the aforementioned keyboard shortcut to bring up the shelf, and then drag my content. (This is also the procedure you'd use to drag items from, say, a Stack in the Dock.) Second, after dragging content into the shelf, it takes a few seconds before that content is available for dragging to a destination. In contrast, when you put files and folders on the shelf, those items are available for dragging immediately.
Another useful new feature is an option to display a dragged group of files as a single stack in the shelf; you can then drag that stack elsewhere to move all the files together. A button next to a stack lets you manually split the stack into its individual items.
Eternal Storms has also added a good number of options for tweaking shelf position and behavior. For example, you can now choose for the shelf to appear at the top, center, or bottom of the left or right edge of your screen, and—even better for those of us with multiple displays—to appear on the screen on which you're actually dragging items. You can still enable an option for the shelf to appear under the mouse pointer when dragging items, and you can still choose how long the shelf stays on the screen when it's waiting for you to drop something onto it.
A few criticisms I had of version 1.0 remain in version 2. For example, the shelf is too narrow to display most item names, and there's no way to view the full name. A useful feature would be a help tag that displays an item's name if you hover the pointer over the item. That help tag could also display the full path to the item's current location. I'd also like to be able to lock an individual file so that it remains in the shelf even when I drag it off. (You can currently enable that behavior for all items, but not for just a particular item—it's an all-or-nothing setting.)
Still, Yoink has been improved considerably since its debut, making it a useful utility that's easy to integrate into your workflow.
(Note: As with the original version of Yoink, although the program available for purchase only from the Mac App Store, you can download a 15-day trial version (670k .zip file) to see if you like using it before buying.)