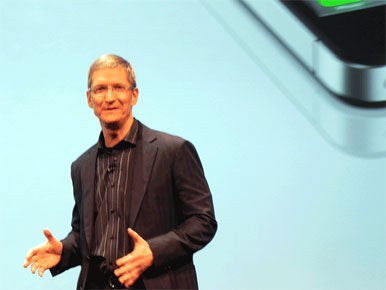 [Editors' note: When Apple releases its quarterly earnings report, it holds a conference-call with financial analysts. Some of the more interesting tidbits about how Apple views the world take place in this call, when Apple CEO Tim Cook answers analyst questions. Here's an edited transcript of what Cook said on Tuesday's call.]
iPhone 4S
We're thrilled with the 37 million iPhones that we've sold. It's up 128 percent against a market-rated growth of about 40 percent according to IDC's latest projection. And this is substantially above the 20-million-unit previous record… Customers are absolutely loving this product.
We made a very bold bet, entering the quarter, as to what the demand would be. And as it turns out, despite it being a very bold bet, we were short of supply throughout the quarter and did end with a significant backlog as [Apple CFO] Peter [Oppenheimer] has said. That situation has improved some since the end of the quarter, but we still are short in some key geographies currently. I would also attribute the performance to delayed purchases from the prior quarter… as people were anticipating a new iPhone being announced.
Each of the models—the 3GS, the iPhone 4, and the iPhone 4S—were important in achieving the 37 million total units, and so we're glad to cover the broad range with great products, but the iPhone 4S was clearly the most popular among those. In the post-paid market, as you know, there's a much smaller difference between what the customer pays in each of these, it's larger in the prepaid market. It's too early to tell, given we've just started this in October, as to how this will play out over time. But we're thrilled with the total result.
We could not be happier; y'know, we thought we were betting bold as I think many of you would have thought if you'd have known what we were doing. But, as it turns out, we didn't bet high enough; our customers are loving iPhone, and we're very happy with that. The iPhone 4S was the most popular iPhone during the quarter, and you know, consistent with most launches we typically see a higher mix at the front end of the launch.
The halo effect
In the enterprise space, as an example, we've seen iPhone sort of be a catalyst, and the iPad moves in after the iPhone, and in several accounts we've seen the Mac follow that. And so there are clear examples where one product has pulled the other pulled the other. And you know, at a macro level, how much it's happening is very difficult to put our fingers on, but many customers—consumers, enterprise, education—they're all pointing that out. And as you know, we've seen that phenomenon before, with the halo that the iPod created for the Mac back in the early 2002, 2003, 2004 days. It's not a phenomenon that is new to us.
iPad
We're really happy with the 15.4 million iPads that we were able to sell. This is consistent with our long-term belief that we've had since before we introduced the product, that this is a huge opportunity for Apple over time. As I've said before, I clearly believe—and many others in the company believe—that there will come a day that the tablet market, in units, is larger than the PC market. In fact, it's interesting to note that in the U.S., it's clear from the IDC's recent data on desktop PCs in the U.S. that tablets exceeded desktop PC sales last quarter in the U.S. So I think you can already see different indicators that that there is significant momentum in the space.
In terms of our competitiveness, the ecosystem for iPad is in a class by itself. We strongly believe in optimizing applications from day one to take advantage of the larger canvas, and we now have apps totalling over 170,000 available for customers, and that compares to what appears to us to only be a few hundred for the competition.
I think that people really want to do multiple things with their tablets, and therefore we don't really see these limited-function tablets and e-readers being in the same category. There's clearly customers that will buy those, and I think they'll sell a fair number of units, but I don't think that people who want an iPad will settle for limited function.
When I looked at the data, particularly in the U.S., on a weekly basis, after Amazon launched the Kindle Fire, and I wouldn't—in my view, there wasn't an obvious effect on the numbers, plus or minus. The theory that you've got, I have heard, clearly, from some customers that that occurred, that they went in thinking they would buy that, they looked at it, decided to buy an iPad; whether that's happening on a larger basis, I don't know. Again, my own view is looking at our data in the U.S., there was no obvious change in the data, for what it's worth, that's how I see it.
There is cannibalization of the Mac by the iPad, but we continue to believe there is much more cannibalization of Windows PCs by the iPad and there's many more of them to cannibalize. And so we love that trend, we think it's great for us. The thing that's very different about the iPad is, you can see it beginning to appear virtually everywhere: The enterprise has adopted it in a very large percent of the Fortune 500, as Peter talked about earlier; that number is also quite large when you look at the global 500.
In K-12 [education] we sold twice the number of iPads as we did Macs; and generally speaking, education adopts new technologies very slowly, so that's somewhat surprising. And of course, the consumer has moved in a huge way to the iPad. And so it's winning market by market by market. I think that consumers that go in and look at it and think about the ecosystem and the huge advantages and the overall customer experience, I think that we will win a fair number of those, and you can see that in the results. And so, we couldn't be happier in doing over 15 million and I think it's remarkable that we've sold over 55 million iPads and we've only been in the business [since] April of 2010.
In terms of other tablets, you know, last year was supposed to be the year of the tablet, and I think most people would agree it was the year of the iPad, for the second year in a row. And so we're just going to innovate like crazy in this area, and we think we can continue to compete with anyone that is currently shipping tablets or that might enter in the future.
Apple TV
The Apple TV product is doing, actually, pretty well. In the last fiscal year that ended in September we sold a bit above 2.8 million units, and just in the past quarter—the December quarter—we set a new quarterly record for Apple TV at over 1.4 million. But in the scheme of things, if you dollarize revenues, we still classify this as a hobby. However, we continue to add things to it, and if you're using the latest one, I don't know about you, but I couldn't live without it. And so I think it's a fantastic product, and we continue to pull the string to see where it takes us.
iCloud
I think Peter shared earlier the number of customers that had signed up for iCloud, and it's already over 85 million, so it's incredible that this has happened in just a few months' period of time. We're thrilled with it, and the response from customers has been incredible. It's solved a lot of problems that customers were having and made their lives much much easier…. It was a fundamental shift recognizing that people had numerous devices and they wanted the bulk of their content in the cloud and easily accessible from all of their devices, and you know, I think we're seeing the response from that. With 85 million customers in just three months, it is a very very important part—it's not just a product, it's a strategy for the next decade.
Is iOS v. Android like Mac v. Windows?
I wouldn't classify it like Mac and Windows at all. You know, the Mac has outgrown the market for over 20 quarters in a row, but still has a single-digit percentage of the worldwide market. If you look at phones, and tablets, and the iPod touch, we've sold over 315 million iOS devices. And over 62 million of those were done in the last quarter alone. I don't have comparable numbers on Android: I haven't found a way to get very crisp quarterly reporting like we do that is straightforward and transparent.
However, you can see from a momentum point of view, if you look at the NPD data that just came out a few days ago, it shows in the U.S. the iPhone at 43 percent and Android at 47; the Nielsen data that just came out a few days ago shows iPhone in the October/November/December timeframe at 45 percent versus Android at 47; and the ComScore data that also came out on October/November shows iPhone at 42 versus Android at 41.
And so it seems like all of the data that I've seen in the U.S. would say that it's a very close race in iPhone; I think on the iPad side, although I don't have specific numbers to share from third-parties, I think that all of us inherently believe that iPad is way ahead there. And there's really no comparable product to the iPod touch out there, and so iOS is doing extremely well.
I wouldn't say it's a two-horse race; there's a horse in Redmond that always suits up and always runs, and will keep running, and there's other players that we can never count out, and so what we focus on is innovating and making the world's best products, and we'll just keep on doing that and somewhat ignore how many horses there are. And we just want to stay ahead and be the lead one.
iPhone internationally
I think we made the correct decision to go with a broad range of iPhones. It turned out to be a benefit, as we thought it would…. Geographically, we saw strengths in every key region, but in particular I would call out the U.S. and Japan, which got going early in the quarter and had many more sales days than most countries; I would also say though that it was particularly huge with the iPhone sales in greater China, particularly considering that we did not launch the iPhone 4S in China until January, and therefore had no sales into mainland China during last quarter.
We are now over 130,000 points of sale throughout the world; that's up about 35 percent on a year over year basis, and so we have consistently added points of distribution. That's both adding carriers that have captured distribution or own distribution as well as key retailers which are particularly important in some markets. We added carriers last quarter, with KDDI in Japan and Sprint in the United States, and both of those carriers, they can speak for their own results, but we are extremely pleased with both companies, and the incumbents that were in the market also did incredibly well. In terms of China: China Unicom continues to be a very key partner, I've got nothing to announce today on an expansion there but as I've consistently said, China is an extremely important market for us, and we continue to look at how to grow it further.
Given that we've just launched [the iPhone 4S] in China, I would say that demand there has been staggering; we are selling through our reseller stores and our online stores, we're not currently selling through a retail store, and the demand is off the charts, and so we're very happy with the demand response there. The other countries that we launched in earlier this year were smaller countries in a demand sense. And so we'll see how the quarter goes from a supply/demand point of view; we did make progress as we've moved from the end of the quarter until now, as I alluded to earlier, and got caught up in some countries, but there are still some that we are not caught up in, so we'll see how we do going forward.
We are today selling in Brazil through an online store and through reseller partners including some very key carrier partners; we're selling in Russia through carrier partners and reseller partners, and we're selling in India through some carrier partners and reseller partners. And so we're in all of those countries today, but… we have a ton more energy in the China market today. That doesn't mean that there's a lack of effort or focus on the others, it just means that it's less than what we're investing in China today.
The second country on the list of those four, for us would be Brazil; I think there's a huge opportunity for us there, and we've more than begun to go deeper into Brazil, but I don't want to signal that this means that Apple Retail would be there, because I don't envision that occurring in the near term. And India, where it is small, the revenue went up over three times last quarter, but that's on a small base. We're beginning to see traction in most of these, but we recognize that we have to focus to deeply understand to the point that we can get to a large revenue figure like [we have in] greater China.
In terms of more carriers, we have been adding carriers, I anticipate that we'll continue to add carriers… In terms of major carriers, the number's much smaller… you know there's a lot of smaller carriers on there. And the same thing with countries, there's many smaller countries, but all of those are important, and I'd like to get into all of them over time.
Acquisitions
Peter Oppenheimer: We have done acquisitions where they've tended to be smaller or medium-sized companies that have just great engineering and other talent, a great start on a product or a technology that we'd like to bring into Apple, and sometimes including IP, and that's really the acquisitions that we've done. We tend to do several a year, we're very very disciplined in how we think about this and how we do it, and I think our track record here has been very strong.
[How are these integrated into the company? Do you run them as stand-alone divisions? What have you done with Anobit, which you just bought?]
Tim: You know, we don't believe in lots of divisions like a lot of companies do, and so we run the company as one, instead of a lot of mini-companies. The semiconductor team works for Bob Mansfield as does all of the hardware engineering for the whole company, and so Bob and his team are integrating Anobit into that team. Anobit has some fantastic technical talent, and we're really fortunate to have them join us.
Tim as CEO
You know, I love Apple, and it's just a reminder every day of how much of a privilege it is to work with a team of people that are so incredible and how lucky I am. I think the team is doing a fantastic job. We feel very good about where we are.