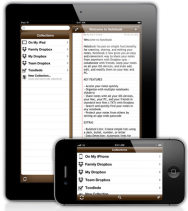 Appigo has relaunched its Notebook iOS app, expanding the note-taking tool from an iPhone-only offering into one that also works on the iPad. The updated app can also sync its documents among multiple other devices.
Notebook 2.0 arrived this week in the App Store. In addition to its new status as universal app that works on all of Apple's mobile devices, the note-taking app also now offers Dropbox syncing—allowing users to recover their notes as .txt files from their personal computer.
Notebook is otherwise a basic affair— as its own developers have observed, the app doesn't offer text-editing layout, or formatting capabilities. But it does have a "data detection" feature that creates phone numbers, websites, email addresses, and calendar events. Notebook comes with its own layer of security, offering users the option to set a passcode for the app so that private notes aren't accessed by others. And the app's Dropbox capabilities also also allows users to share their notes with collaborators.
The offering also integrates with Appigo's Todo productivity app.
Notebook 2.0 costs $5, and is compatible with devices running iOS 4.2 or later.