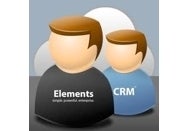 Despite the show's emphasis on music, art, and fun, serious business apps are also making an appearance at Macworld | iWorld.
For starters, Ntractive has announced Elements CRM for iPad. Elements CRM (customer relationship management) is a cloud-based service that lets businesses keep track of their customer contacts, sales, billing, and more. The company already has Mac app; now that same customer data will be available from the iPad. Any changes you make using the iPad app when you're out in the field will automatically and instantaneously update the data in the cloud.
The app itself is free; the service costs $25 per user per month for small businesses (one to five) employees, $44 per user per month for bigger companies; there's also a $99 set up fee, and the iPad app requires a Mobile add-on service that adds $10 per month per user to the cost.
Meanwhile, Mindwrap is introducing its new FiledRight document management system for OS X at the show. Designed for small business users, FiledRight aims to make your office paperless. It starts with the scanning and batch-processing of documents from any Mac with a scanner. (You have to install a special Mindwrap scanner driver first.) Those documents are then indexed so they're searchable. The server admin tools let you assign permissions to scanned documents as well as manage the document database.
Pricing starts at $2000 and is available in bundles for 5, 10, and 25 users. For the money, you get the company's FiledRight server software, workstation clients, some built-in indexing and query screens, admin tools, and the Mac scanner driver. Pricing starts at $2000; you can also purchase yearly tech support.
Finally, Stellar Data Recovery has announced Stellar Phoenix Mac Data Recovery v5, which aims to help you recover lost, missing, or accidentally deleted files—even if you've emptied your trash, formatted the drive, or otherwise done something that should make your data completely disappear. Stellar says this latest version is 30 percent faster than the last one and will even recover the names of lost files as well as their data.
Stellar is introducing the software at Macworld | iWorld at the special price of $20; it'll be available more widely starting February 1 for $99.