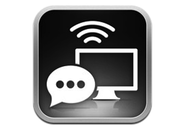 Although Avatron isn't unveiling anything brand new at this year's Macworld | iWorld event, the company did tell me about some news regarding its Air Dictate app.
Air Dictate is Avatron's Vocal-esque iOS app that lets you use the transcription technology on your iPhone 4S in tandem with your Mac. You run a helper app on your Mac, launch the Air Dictate app, and start talking.
Or rather, you did. Apple recently pulled Air Dictate from the App Store, because Air Dictate used a non-standard interface to trigger the transcription technology on the iPhone 4S. Normally, you'd tap the microphone key on the virtual keyboard; Air Dictate instead sported an interface all its own for the microphone. When the app first was pulled from the App Store, Avatron announced that it would no longer offer the app; it had no plans to retool things to get Apple approval.
At Macworld | iWorld, however, Avatron representatives told me that they've had a change of heart after a cooling off period. While the company was quick to say that it wasn't prepared to make any promises, representatives did say that if they can figure out a way to make a cool interface without violating Apple policies, they will work to get a new version of the app back in the App Store.
Avatron was also showing off its Print Sharing, Air Sharing, and Air Display apps. Air Sharing will soon sport a new PDF reader with much-improved PDF reading support, and Air Display will soon be available for Android devices. An Avatron representative suggested that when early Kindle Fire owners tire of those devices and upgrade to an iPad instead, perhaps they might use Air Display for Android to turn their Fires into external monitors for their Macs.