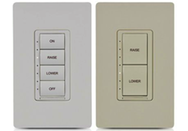 Most folks exploring the show floor at Macworld | iWorld are probably far more likely to drop $10 on an iPhone case than nearly $2000 on a home (or business) automation setup. But those with more discretionary income to spend may well be interested in the technology shown off this week by Crestron.
When I met with Crestron on the show floor, company representatives explained that they saw their business strategy as in line with Apple's: Like the Cupertino juggernaut, Crestron makes both the hardware and the software. The hardware connects to the electronics in your home: In addition to control processors, the company sells replacement light switches, thermostats, and other gizmos. Those devices all integrate with Crestron's iOS apps, which, in turn, allow you to dim the lights, adjust the temperature, and control pretty much anything in your home that uses electricity.
Crestron representatives told me that some customers have even used their technology to automate the feeding of their fish. And depending on how nuanced you get with your setup, you can use Crestron's iOS apps to, say, dim the lights and close your electric blinds when you tap to start a movie, and to bring the lights back up a bit if you tap Pause.
Because of the fairly steep prices involved in getting started, it's not surprising that Crestron sees more traction with the enterprise market. Company representatives told me that corporate clients appreciate the ease with which they can automate video conferencing and presentation setups in conference rooms. Even better, a company's IT team can remotely monitor usage; if someone leaves the lights on in a conference room after a meeting's long over, you can remotely turn off the lights to save a few bucks on electricity. Not a bad idea, of course, if you've dropped several thousand dollars on your automation system in the first place.