It's not every panel discussion that breaks in the middle for an improv freestyle rap with two human beatboxes. Then again, it's not every improv rapper who responds to the topic of "Mac" by saying, "that's so easy."
Nevertheless, that's how the Superfly Presents the Creators panel discussion went down on the Main Stage at Macworld | iWorld on Thursday. Moderated by Billy Zero, Grammy trustee and founder of Zero Management, the panel brought together musicians, TV and film directors, and media managers for a wide-ranging discussion on the use of Apple products in creating media and running a media business.
It was not surprising to hear that Final Cut Pro and Pro Tools on the Mac were crucial to these artists, but an additional recurring theme was how often they set aside their Macs and live through their iOS devices. Fitz (Michael Fitzpatrick) of Fitz and the Tantrums does everything through his iPhone when he's on the road with his band, as he has been for the past year. Social media is the most important method he uses for keeping the band connected with its fans, mainly through Facebook. Fitz's iPhone is his sole method of keeping in touch with his online presence and managing his business, he explained, so he doesn't need to carry a separate office in a bulky bag.
Jeff Castelaz, CEO of Dangerbird Records, agreed with Fitz, saying that he uses his iPad and iPhone so often that it's rare for him to touch a laptop. His bands and managers are scattered around the world, and iOS devices are his digital hub to keep in touch with them all.
Castelaz related the story of receiving a track in his DropBox account with a demo recorded by Melissa Etheridge in her kitchen, then switching over to FaceTime to talk to one of his producers in Iceland who had Wi-Fi but no cellular connection. He said that the iPhone has helped him to shift to a less heavy-handed management style, because so often he can listen to a song or review a marketing design on his iPhone, and then just say, "That's great, go."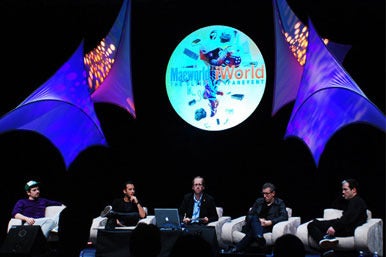 Movie director Brad Furman, who helmed 2011's The Lincoln Lawyer, and Anthony Veneziale, director of the revamped Electric Company series on PBS, both talked about how digital technologies speed up and improve their work. Furman shot The Lincoln Lawyer on digital Red cameras—this made the editing and review process much faster, according to Furman. Not only was he able to work with his editor and cinematographer to try out ideas and toss them if they didn't work, he was also able to show edited work in progress to the movie's backers. Getting these approvals allowed him to "get next to his vision" of what the movie should be.
Veneziale related his experience of using the iOS platform to manage the process of directing a series of commercials for the AMC network. He uses an hour-long flight to Los Angeles to review scripts on his iPad and sends out notes using Pages to his production team. Veneziale told session attendees that the iPhone and iPad work exceptionally well for him for video review because he's producing for television; in contrast, working on small screens when you're making a movie can create effects that look fine on the computer, but don't translate well to larger displays. Keeping the work to a similar scope as the final product means that what he sees is what the audience will receive. Producing for television moves at "blitz go go go" speed after approvals are received, and Veneziale said he uses "thousands" of apps on his iPad to keep the process together.
Rick Farman, co-founder of Superfly Presents, discussed how iPhones were changing the experience of going to a concert and being a fan; his entertainment production and marketing company is looking to stay ahead of that wave. According to Farman, people at concerts use their phones to broadcast photos and videos of themselves there, and to connect their friends and social networks to the bands they're invested in. What Farman wants to do next is to involve the fans at home with the live concert experience—you would see that a friend of yours is live-posting from a concert, and your own app that is playing you the live audio might let you buy him a beer at the show.
Farman expects that Apple will a leader in getting radio-frequency identification and near field communication into the hands of the marketplace because of the company's leading position with iOS devices. He uses iPhone apps to take large-scale event information and scale it down to an interactive small screen, where you can not only plan your schedule but share it with other event attendees.
Several of the panelists said that they first got involved with Apple products back when that meant an Apple IIe or IIc; Furman was very excited about his PowerBook 180c because the "c" meant a color screen. Zero thinks that Apple's offerings provides an advantage over other technologies in that becoming a programmer is more accessible there than it is elsewhere; one of his musicians was using AppleScript to create his own Siri-style workflow with his iPhone a year before the iPhone 4S was released.
And if there was any question about how they feel personally about their Apple gadgets, Veneziale laid it to rest with his rap, which ended with the doll-sized bed that he uses for his iPhone. He followed up the rap by telling the audience that he puts his iPhone on that bed, and it reminds him to shut it off for a while to disconnect from everything. I wouldn't be surprised if the rest of the panel went shopping for dollhouse furniture themselves soon to copy that trick.