If you'd just read the pre-show publicity about Macworld | iWorld, you might have thought it was all about art, music, and fun. But as I walk the show floor, I've been finding lots of Mac and iOS products for serious business use, too. Yesterday, I wrote about some announcements from Ntractive, Mindwrap, and Stellar Data Recovery. Here are three more intriguing business products I've seen since then.
Dev-Audio's Microcone is a microphone specifically designed to record group meetings. But it isn't just a mic: The small, cone-shaped device actually contains six separate directional microphones. You put the Microcone in the middle of the table, then start talking. As each person speaks, the mic closest to him or her picks up what he or she is saying. (Yes, the device is only effective in meetings with six or fewer participants.) The Microcone then relays each person's utterances as a separate audio signal to your Mac (via USB).
The Microcone Recorder app then processes and records each of those individual audio streams; they appear in the app's interface as separate tracks in a timeline. That's when some interesting things can happen. You can isolate what one person said and play back or save just that. Tracks or segments of the timeline can be tagged for later reference and searching. There's a Talk Time feature, showing how long each person spoke. You can also send tracks to the Nuance Web service for transcription. (That last one requires a separate Nuance account, which charges by the use; Microcone reps say that it's 80% accurate, which is probably good enough for meetings.)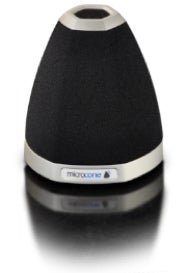 The Microcone itself costs $359; the $5 Recorder app just went live on the Mac App Store.
Meanwhile, a company called Compsoft has an interesting solution for people who give presentations on the iPad. The problem is that you might have a couple of presentations saved in Keynote, some PDFs on Dropbox, maybe a couple of spreadsheets, and you want to show them all to clients. But with all of those materials are scattered all over your iPad in different apps, you could spend a lot of precious meeting time tapping around, going from one app to another to find the material what you want—not the recipe for a smooth presentation.
Compsoft's new iPresent system gives you a unified interface for all those presentation materials. It works like this: You use the iPresent online content management system to create a general template with menus and graphics. You then upload your presentation materials—which can include Keynote or PowerPoint presentations, PDFs, Excel files, and more—into that template. Then, when it's presentation time, you open the iPresent app, and all those materials are there, in one neat, professional looking, easily navigable package. You and your co-workers can add new or updated material to the package; the app will download and displays the most up-to-date version.
The iPresent app itself is free, but the content management system requires a monthly subscription.
Finally, VIPorbit is showing version 2.0 of its contact-management app for the iPhone. It's like a personal version of an enterprise-level customer relationship management (CRM) tool: Once you've stored contacts in it, it can record every interaction you have with them. It includes its own calendar and email tools, which you have to use if you want it to keep track of all those interactions. There have been lots of little tweaks since version 1.0, from a new calendaring interface to some nifty options for communicating with groups ("orbits," in the app's lingo, hence the product name).
The company also has an iPad version on the way. It says that both have been approved for sale in the iTunes App Store, and both should be available soon.