The annual expo for Mac and iOS users has evolved to focus on the user community, but the Macworld | iWorld exhibit hall where companies show off their wares is still a huge part of the show—you might even say it's the most important part. Hundreds of products are on display, but a few stand out from the rest. We call these products the Best of Show.
Macworld's editors use their market knowledge and expertise to determine the candidates. After some back-and-forth among editors, a list of the winners is created. Here are the recipients of the 2012 Macworld | iWorld Best of Show awards.

Adonit's Jot Touch Artists who use the iPad and a stylus to draw will appreciate the Jot Touch's (under $100) support for pressure sensitivity, done by using a combination of Bluetooth, a spring tip in the stylus, and software on the iPad. (Booth 1024.)
Blue Microphones' Spark Digital This $200 USB condenser microphone can be used with a Mac or an iPad, and has a built-in shock mount and adjustable stand. It uses the same studio-grade condenser capsule as the original analog version of the Spark microphone. (Booth 413.)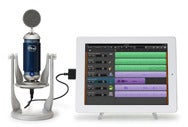 Boinx Software iStopMotion for iPad Use this app to shoot a series of pictures on your iPad. Then you can use iStopMotion ($10; introductory price for a limited time of $5) to assemble a stop-motion animation that you can export as a video clip or upload to YouTube. You can also use the app with Boinx's iStopMotion Remote Camera app and set up an iPhone as a camera that transfers its pictures to the iPad. (Booth 818.)
Dev-Audio's Microcone A multidirectional microphone in the shape of a cone, this $389 device can capture audio from six different directions on six different audio channels. The Microcone comes with software that lets you adjust the volumes of each of the six channels. (Booth 228.)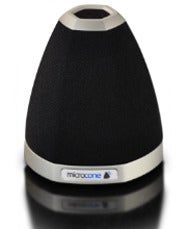 FileThis Fetch Getting your financial statements from your bank, retirement fund, and credit card companies just got a lot easier. For $2 a month (less if you buy a prepaid plan), FileThis Fetch will get these financial statements automatically, whenever a new statement is available. Statements can be saved into an Evernote account or on your Mac. (Booth 228.)
Global Delight Game Your Video Adding special effects, such as slow motion, splitting one frame into three, voice effects, and video filters, can make a boring video fun. Why not make the video-editing process fun, too? Game Your Video ($2) uses a friendly, easy-to-use interface that makes it entertaining to apply the effects. (Booth 753.)
i4software Video Camera Calling itself a "video studio in your pocket," Video Camera ($8) lets you shoot, edit, and share your video in one app. What's more impressive about the app is its remote-camera feature, which lets up to eight shooters record an event at the same time; the footage can then be edited together on one iPhone. (Booth 710.)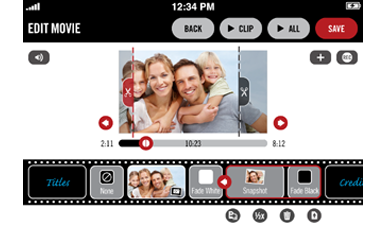 Lantronix's xPrintServer Wouldn't it be helpful if, when using an iPad at work, you could print to any printer on the network? With the xPrintServer ($150), you can. This device connects to your router via ethernet, finds all the available printers on the network, and then makes those printers available to the iPad. (MacIT Sponsor Showcase, third floor Moscone West.)
RyzMedia's blinQ This $10 device plugs into your iPhone's headphone jack and, with the blinQ TV app, turns the iPhone into a remote control for your TV. The app has social network features, letting you post to Twitter or Facebook so your friends can see what you're watching and tune in, as well. (Booth 818.)
Smile PDFpen for iPad Like the Mac version, PDFpen for iPad ($10) is a feature-filled app that lets you annotate and edit PDF documents. You can also import images from your Photo Library and place them in PDFs. It can store files in iCloud, Dropbox, Google Docs, and Evernote. (Booth 228.)
TourWrist This free app isn't just another panoramic photo app. If you move your iPhone or iPad, the panoramic photo moves with the device, changing your perspective on the photo. You can create 360-degree tours of locations, and share them on the TourWrist website. (Booth 818.)
Editor's note: Updated at noon PT with correct US pricing for the Microcone.
[Roman Loyola is a Macworld senior editor.]