The new year is underway and the gyms are filled with new faces which, unfortunately, may never be seen again in a month or two. Maintaining your motivation is always the hardest part of a new workout routine. Luckily, there's now an app for that.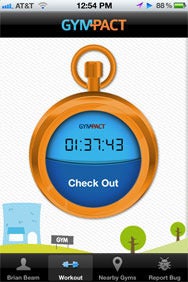 GymPact, a free iPhone app by the developer of the same name, takes a unique approach, using the civilized world's oldest motivator: money. After a quick signup process, you sign a "pact" to work out a certain number of times per week. If you don't meet your pact during any given week, your credit card is charged for each workout you missed. That money is then divided up among the users who met their goals that week. Your earnings accumulate and can be credited to your PayPal account whenever you want.
The app tracks your workout activity using a location-based check-in system. (A Wi-Fi connection is required for devices without 3G.) Upon leaving the gym, you check out and can then post your finished workout info to Twitter or Facebook if you want.
It's hard to say what your potential earnings could be (I'm certainly not expecting to retire early from the proceeds) but the thought of earning enough cash for an occasional coffee—not to mention the idea of paying for someone else's coffee should I ever slack off—will help me stick to my workout routine.
[Brian Beam is a partner with web development firm BOLD Internet Solutions who hits the gym several times a week somewhere near Kansas City.]