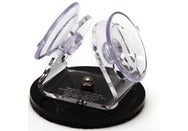 Insanely Great Products's booth on the Macworld | iWorld show floor is covered in suction cups. Apparently, a lot of the company's insane greatness involves helping things stick to other things. And the truth is? Some of Insanely Great's iPhone accessories did indeed seem fairly great.
A lot of Insanely Great's products look alike: round bases with one or two angled suction cups. The $20 Willy is perhaps the company's most popular accessory. On your desk, the base's non-skid surface helps the Willy become a capable iPhone stand, propping up your iOS device in either orientation.
Thanks to the second section cup, though, the Willy also works in your car as a windshield mount—perfect for using in tandem with a GPS app.
The $10 Jack features just one cup for use solely as a stand; the Traveler sports a single cup with a smaller base for the same price.
Insanely Great's representatives on the show floor enthusiastically celebrated their company's focus on building its products in the United States, assembling them by hand.