Apple CEO Tim Cook says he is "outraged" by a series of New York Times reports alleging worker mistreatment and neglect at Chinese factories that assemble the company's iPhones, iPads, and other devices.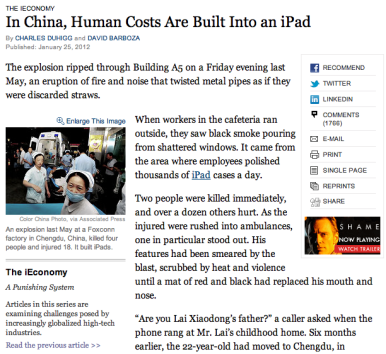 "We care about every worker in our worldwide supply chain," Cook said in an email to Apple employees, published Thursday at 9to5mac.com. "Any accident is deeply troubling, and any issue with working conditions is cause for concern. Any suggestion that we don't care is patently false and offensive to us. As you know better than anyone, accusations like these are contrary to our values. It's not who we are."
The Times has painted an unflattering picture of Apple's China operations in its "iEconomy" series of reports this week, initially depicting "Foxconn City"—a Chinese manufacturing hub named for the contractor that builds Apple's iOS devices among other electronic gadgets—as a company town where employees live in barracks and work 12-hour shifts, six days a week, for less than $17 a day. One anecdote depicted employees being roused in the middle of the night, given a biscuit and tea, then put to the task of putting new glass screens on iPhones. (China-based Foxconn is owner of some of the world's biggest factories and is described by the Times as "China's export machine.")
But it was Wednesday's story—with a headline suggesting that "human costs are built into an iPad" that apparently aroused Cook's ire.
The story suggested that worker health was routinely disregarded in China, with employees exposed to toxins and injured in a pair of explosions. The paper summarized: "Employees work excessive overtime, in some cases seven days a week, and live in crowded dorms. Some say they stand so long that their legs swell until they can hardly walk. Under-age workers have helped build Apple's products, and the company's suppliers have improperly disposed of hazardous waste and falsified records, according to company reports and advocacy groups that, within China, are often considered reliable, independent monitors."
In its stories, the paper said Apple refused to comment on the allegations despite being provided "extensive summaries" of the Times' reporting.
Allegations of human rights abuses at its China suppliers have dogged Apple in recent years. In response, the company has joined the Fair Labor Association and created its own annual Supplier Responsibility Progress Report to document such problems at 156 of its suppliers—covering 97 percent of its supply chain—and efforts to correct them. The latest report, released earlier this month, acknowledged that underage workers had been found in several factories, but also detailed efforts to prevent a repeat of the deadly explosions that killed four Chinese workers. The company says it has trained more than 1 million workers at its suppliers in Apple's code of corporate conduct.
"Every year we inspect more factories, raising the bar for our partners and going deeper into the supply chain," Cook said in his email to Apple employees. "As we reported earlier this month, we've made a great deal of progress and improved conditions for hundreds of thousands of workers. We know of no one in our industry doing as much as we are, in as many places, touching as many people."
The Times acknowledged those audits in its reporting, but suggested the audits produced little action. "Apple has found violations in hundreds of audits, but fewer than 15 suppliers have been terminated for transgressions since 2007, according to former Apple executives."
The Times series comes in what should otherwise be a good week for Apple. The company on Tuesday reported a profit of $13.06 billion on sales of $46.33 billion for the first fiscal quarter of 2012.
"We are focused on educating workers about their rights, so they are empowered to speak up when they see unsafe conditions or unfair treatment," wrote Cook, who served as Apple's chief operating officer and oversaw its supply chain prior to becoming the company's CEO. "We will continue to dig deeper, and we will undoubtedly find more issues. What we will not do — and never have done — is stand still or turn a blind eye to problems in our supply chain."