The Omni Group will release an iPad version of its OmniPlan project management software during the first half of this year, company representatives said at Macworld | iWorld Expo. Unlike the Omni Group's other iPad apps, OmniPlan for iPad will closely mirror the features of the Mac OS X version of the application.
Project managers who have struggled to print out large, unwieldy Gantt charts to share at meetings will appreciate the ability to tote all project data along with them. The iPad app will include screen mirroring via the Apple TV so you can show your charts on the conference room TV—no wires required.
All changes you make to your project plan on the iPad will sync to the cloud so that you can easily move from one device to another. (OmniPlan for iPad will also include change tracking so you know who changed what.) The app will support CalDAV, WebDAV, Google, and Omni Group's OmniSync server.
The Omni Group is adapting the look-and-feel of the program for the tablet. Tap on a team member's name to check his or her workload. Tap to filter by milestones. Drag sliders directly. Tap and slide elements of a project plan around.
The iPad app won't offer printing, nor will you be able to import from Microsoft Project, the preeminent project management software on Windows. For that, you'll need to have the OS X version. Pricing for the iOS app is not yet set, but company representatives said it will likely be half the desktop software's price, along the lines of all the the Omni Group's current iPad apps. OmniPlan 2.0.3 for the Mac costs $200.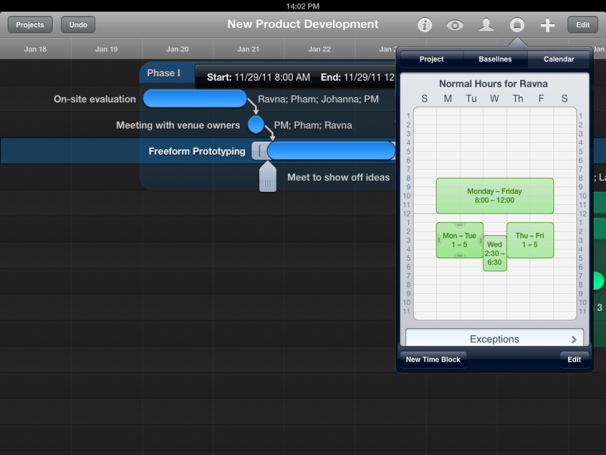 See the Omni Group at Booth No. 802 at this week's Macworld | iWorld show in San Francisco's Moscone West exhibit hall.