How much can you teach in five minutes? That was the challenge for ten speakers at Thursday nights's Rapid Fire session at Macworld | iWorld. Borrowing the format from the Ignite conference series, the wide-ranging, two-hour session gave every speaker five minutes to engage the audience and say something memorable.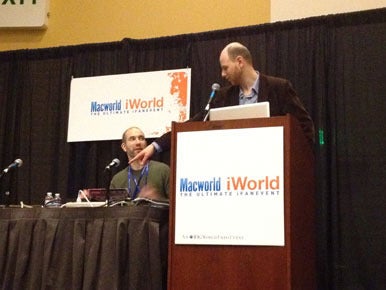 Here's a rundown of some of the more memorable presentations from Thursday's Rapid Fire event.
Karen Anderson, author of WriterWay, presented ten out-of-left-field uses and accessories for an iPhone, including charging it with a steampunk boiler, covering it with Swarovski crystals, and touching up your photos with cats. She also related stories of people whose lives were saved by their iPhones—a man trapped in the Haiti earthquake rubble, who researched his symptoms and set alarms to keep him awake for 60 hours until rescue came, and a hiker, who fended off a black bear… by throwing her iPhone at it.
Christian Boyce, "Macintosh consultant to the stars," demoed tips for the iOS Maps app that most people don't already know, including quick zoom-outs with a two-finger single tap, switching to the list view after a search by tapping the page curl, and using Siri to provide instant maps and directions.
Wendy Gorton showed how she uses PhotoBooth to turn her elementary school students into filmmakers, using a reality show or local news format to let her kids script and shoot their own videos in the classroom or during roadtrips to Death Valley.
Dave Hamilton from The Mac Observer told us all to click the "Other…" entry in the Finder's Find window where the default menu item says "Kind," then scroll through the dozens of ways you can add search terms to a Spotlight search. Chuck La Tournous, also from The Mac Observer and RandomMaccess, gave a guided tour of Data Detectors, an Apple technology that debuted in System 8, vanished in Mac OS X 10.0, and came back in Lion and iOS 3. Hover your mouse over or tap an email containing an address or calendar event, and Data Detectors will try to figure out what type of data it is and offer to send it along to Address Book or iCal.
MacFixIt's Kyle Wiens made everyone in attendance subconsciously flinch by discussing the myriad ways that customers have damaged their Macs and iPhones—MacFixIt keeps a running list of spilled liquids, some of them unmentionable—and showed how cracking open a device's case to do a DIY fix is much easier than you might think. And AppleScript guru Ben Waldie from Automated Workflows built an Automator action in minutes that created a photographic calendar by mixing PDFs from iCal and a folder of Finder images.
Three Macworld editors took the stage to present their own tips. Senior editor Christopher Breen provided a stern warning about what happens to people who rip DVDs they haven't purchased, then talked about using VLC and Handbrake to put movies you legally own on your Mac and iOS devices. Hint for Disney and Pixar movies that deliberately make it hard to find which video track contains the movie: play the movie in DVD Player, then choose Title from the Go menu; the submenu will show you which track is currently playing.
Staff editor Serenity Caldwell gave her top five iOS tips, including using a very quick swipe down and up to get rid of intrusive iOS 5 banner announcements. Another tip: you can add a word to the iOS dictionary by creating a keyboard shortcut in Settings with the same text for both the shortcut and the replacement text—that way, words like "Coruscant" and "TARDIS" won't be autocorrected.
And senior editor Dan Frakes presented 20 ways he makes LaunchBar his productivity tool of choice, with techniques that go beyond using it as an application launcher. With the right combinations of file and text selection, the tab key, and the space bar, he demoed everything from opening all of the items in a folder through pasting from multiple clipboards to setting an automatic timer to remind you when dinner is ready.