Macworld | iWorld 2012 this week offered a look into the very near future of how musicians will be able to use their Macs and iOS devices to create, perform, or record music. Nearly all of the products listed below are slated to ship in the next few months.
IK Multimedia in Booth No. 648 showcased a whole new set of iOS products for musicians. All due late in the first quarter or early in the second quarter of 2012, the company's latest products include the $99 iRig MIX, a compact mixer targeted to DJs or musicians that use one or more iOS devices in their performances. Working with the company's own DJ Rig app for iPhone and iPad, you can combine the output of two iOS devices, or an iOS device with a CD player or other audio source. The app's X-Sync technology lets you automatically synchronize the beats per minute (BPM) of the app's audio with that of a second source. It has an extra quarter-inch input for a guitar or microphone which can be processed with one of IK Multimedia's iOS apps for instruments, like AmpliTube or VocaLive. The iRig MIX includes crossfader, equalizer, gain, cue and volume controls, as well as RCA outputs to connect to a PA system.
Also on display at the IK Multimedia booth is the new iRig Pre ($40), a mobile preamp for iOS devices that lets you plug in and use any XLR microphone with your iPad or iPhone. It uses a 9 volt battery to supply phantom power for those mics that require it.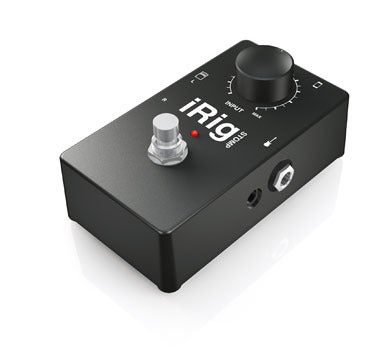 The $60 iRig Stomp is designed for live performances using the effects from one of the IK Multimedia's music apps, like AmpliTube, onstage. You can use the app to customize an effects chain that might include distortion, flanger, EQ or delay, and then use the iRig Stomp to turn the effects on and off without having to take your hands off of your guitar.
Around the corner at the Sonoma Wire Works booth, the company was showing off its highly regarded GuitarJack 2. The $149 high-quality guitar interface for iPad or iPhone 4 plugs into the dock connector. (In contrast, most of IK Multimedia's iOS input devices use the headphone jack.) While GuitarJack 2 works with applications like GarageBand for iOS and others, Sonoma Wire Works offers a number of its own apps like FourTrack, GuitarTone, and Taylor EQ, which were also on display this week.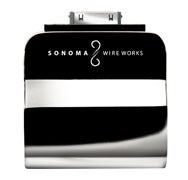 In Booth No. 818-25, Studio Six Digital made its first appearance at Macworld to showcase its $399 high-end iAudioInterface2 for iOS. Designed for audio measurement and testing, this device plugs into an iPhone or iPad dock connector and offers multiple inputs including XLR, 1/4 inch guitar jacks, and more. The $20 AudioTools 4.0 app lets users perform acoustical analysis, measure sound levels, and more. The iAudioInterface has an XLR input for microphones, a quarter-inch input, and toslink digital output; it can be used with GarageBand or other iOS music apps.
Blue Microphones in Booth No. 413 displayed its latest products as well, with all of them due to ship this spring. Blue's $199 Spark Digital microphone uses the same condenser capsule and costs the same as the company's analog Spark XLR microphone, but it also comes with two adapters—one for iOS dock connectors and one for USB for recording to your Mac. It features a desktop stand with shockmount.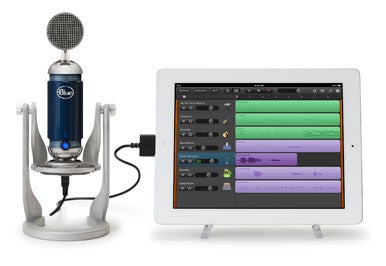 Also on display is the $99 Mikey Digital, an iOS microphone that attaches to the dock connector. It has a 230-degree rotating head, automatic or manual gain settings, and an LED clipping indicator. The Tiki is a $59 USB microphone meant to be used to improve the quality of Skype calls or simply recording voice or guitar. When used for conference calls, the Tiki's Intelligent Speech mode helps reduce background noise and automatically mutes when you're not speaking; it turns back on immediately when you resume talking.
The folks at Castiv in Booth No. 331 highlighted a line of iOS device stands meant for musicians. The $25 Smart Station has a spring-loaded connector that clamps to just about any microphone stand and lets you use your iPhone in either portrait or landscape mode. It can also be screwed to the top of a standard mic stand. For the same price, the Tripod TabStation screws into a standard tripod and allows you to use your iPad to read music and lyrics.