Don't believe it when folks say that the Macworld | iWorld show floor is primarily filled with iOS accessories—the community of document scanner makers is quite well represented too. At least seven different companies have scanners on display at this week's event.
Continuing a trend that we saw last year, many scanner companies are relying on their cloud capabilities rather than their hardware to differentiate themselves. The Neat Company with its NeatReceipts and NeatDesktop products, Apparent with the Doxie Go scanners, and Fujitsu with its ScanSnap line all were promoting their portable document scanners and increased interaction with cloud-based storage.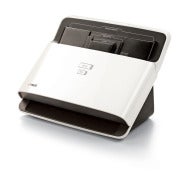 The Neat Company (booth 635) was showing a preview of its NeatCloud subscription service that allows customers to sync their scanned receipts and documents from the desktop application to the cloud and access them from anywhere. NeatMobile will allow customers to scan using their smartphones and send directly to the cloud, possibly eliminating the need for dedicated scanning hardware like its $200 NeatReceipts for Mac and $400 NeatDesk for Mac scanners. NeatCloud and NeatMobile are expected to launch in this spring, with pricing to be announced upon release.
Fujitsu (booth 510) hasn't expanded its line of portable and desktop ScanSnap scanners, but has added a few new partners that its scanners can work with— SugarSync and Salesforce Chatter. Evernote support was previously available in the ScanSnap software.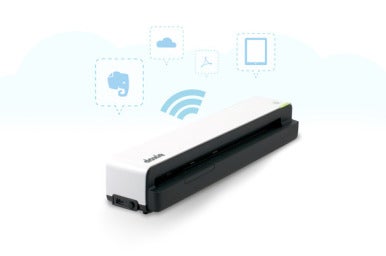 Apparent (booth 542) was showing off its new Doxie Go ($199) and Doxie Go + WiFi ($239). These single-sheet, simplex scanners look much like the original Doxie ($149), but don't need to be attached to a Mac via USB in order to scan. Both flavors of the Doxie Go have a rechargeable battery and on-board flash memory that can hold up to 600 scans. If that's not enough, you can increase the Doxie Go models' capacity with a USB thumb drive or an SD Card inserted in the proper slots. The Doxie Go + WiFi ships with a 4GB Eye-Fi card that lets you send your scans directly to Evernote, Dropbox, or Flickr. You can sync scans wirelessly to an iPad or iPhone with a free app, or with the help of the iPad Camera Connection Kit ( ), you can scan to the SD card and transfer them onto your iPad.
Also at the show was Ambir, showing a couple of soon-to-be-released portable scanners for Mac. Sharing space with its software partner NewSoft (booth 309), Ambir's Mac versions of the TravelScan Pro and TravelScan Pro Duplex should debut in the next couple of months. NewSoft was showing its new Presto BizCard Xpress Mac software, which scans directly to OS X's Address Book and also syncs to Apple's iCloud.