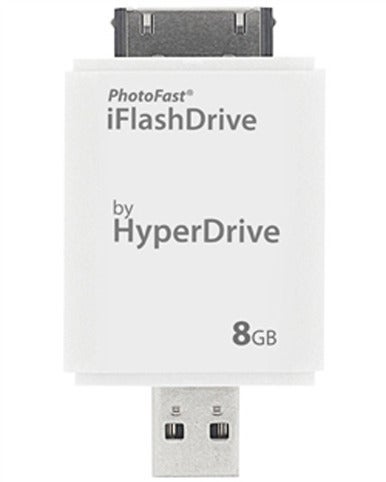 When Wi-Fi's not available, it'd be nice if there were a simple and easy way to share files between your iPad and Mac without using a physical connection between the two. When I saw the iFlashDrive being demonstrated by Hypershop on the Macworld | iWorld show floor, it definitely caught my eye.
Billed by the company as the "world's only flash drive for the iPhone, iPad, and iPod touch", the iFlashDrive has a USB connector on one end that, when attached to a Mac or PC, acts like any other thumb drive. You can plug it in and then copy files to it.
On the other end of the iFlashDrive is a dock connector that you attach directly into an iOS device. You then use the iFlashDrive app to see all your music, videos, and other files and interact with them directly off the drive itself. The app allows you to download files from the drive directly onto your device, but sadly, you can't copy files from the device to the drive. You can sync files from the drive to Dropbox through the app, and company president Daniel Chin said they plan on adding Evernote and Box.net sometime in the near future.
The drive comes in a 8GB version for $100, 16GB for $150, and 32GB for $200.