Although I've kept a journal at times, I've yet to commit to doing it daily. Despite my seeming inability to write every day, I've often felt that some kind of digital journal would be easiest to use and, most importantly, keep current. MiJournal ( Mac App Store link), by GoToes Software, is an application that aims to make journaling—and content sharing—easier.
Pages, Word, Google Docs, blogging software, and just about any text editor weren't designed with daily journal writing in mind. For a journal program to stand out, it must encourage the author to return to the journal regularly. To this end, MiJournal provides a calendar for you to track your entries; a colored box denotes days with a journal entry.
MiJournal's main screen consists of a large writing pane at the top and three small calendars at the bottom. These calendars show the current month, the previous month, and the next month. You can scroll to the left to see past months or choose any month up to ten years in the past from a drop down menu near the bottom of the screen. Unfortunately, there is currently no way to skip to a specific date except by choosing the month first.
Despite the difficulty of navigating past months, the same cannot be said for MiJournal's search function, which worked well in testing. Although MiJournal does not contain a search box, the search command can be accessed through the Edit menu at the top of the screen. The search function worked as expected in testing—and even across multiple journals.
While it's easy to write and search in MiJournal, the same cannot be said for the way media is treated in journal entries. While adding photos and videos to entries was easy via drag-and-drop, I was unable to find a way to resize media, despite trying a hotkey and instructions the developer recommends on its website.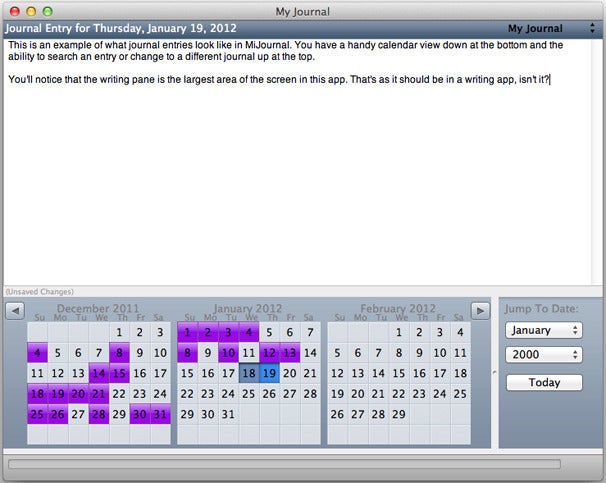 Security and portability are both key features of any digital journal. MiJournal offers encryption and password protection on journals. Writers can export journals to Dropbox and then sync them across multiple computers, a feature as useful for its offsite backup capability as its syncing capability.
Macworld's buying advice
MiJournal isn't the flashiest choice in Mac journaling, but it's steady and straightforward. The visual emphasis on repeated writing and the search support are standout features in an app that makes journaling just a bit easier.
[Brendan Wilhide is a frequent contributor to Macworld.]