It's been seven months since Apple released Final Cut Pro X amidst furor and bemusement; four months since the company released its first major update, with promised support for more pro-level features in the next year. That year is here, and with it, Apple brought its third major update to the platform, offering multicam editing, updates to Chroma Key, beta broadcast video monitoring, and an assortment of other improvements.
The iterative changes continue with Final Cut Pro X 10.0.3, released early Tuesday morning as a free update for current users on the Mac App Store. The big new features were teased last year: multicam editing and broadcast video monitoring. "All of these things are critical in a professional post-production environment," said Apple's senior director of applications marketing, Richard Townhill, in a conversation with Macworld, "and Final Cut Pro X has been built specifically with that in mind."
Broadcast video monitoring comes attached with one of Apple's new—and relatively rare—labels, "Beta." According to Townhill, this is partially due to the limited number of third-party partners on launch. "We have a third-party dependency on this feature," said Townhill, "[and] it's going to get better as we see drivers from third-party partners, and continue to work with them to improve."
Three firms have been working with Apple to implement monitoring via PCI Express cards: AJA Video Systems, Blackmagic Design, and Matrox. In addition, Final Cut Pro X will offer monitoring through the Thunderbolt port, allowing editors to check broadcast-quality video on-set through devices like AJA's IoXT and a Mac laptop.
With regard to multicam editing, Townhill noted that Apple held off on offering the feature until it could bring something new to the field. As such, the company's iteration of this tool offers a full 64 slots for source video, none of which need to share resolution, codecs, or framerate to cooperate. To organize the footage, users can add new camera angle metadata onto sources; in addition, syncing content no longer relies solely on timecode. Instead, clips can be synced using data and time, or Apple's new Audio Analysis feature—unique to FCP X—which automatically matches scratch audio waveforms from simultaneous set footage.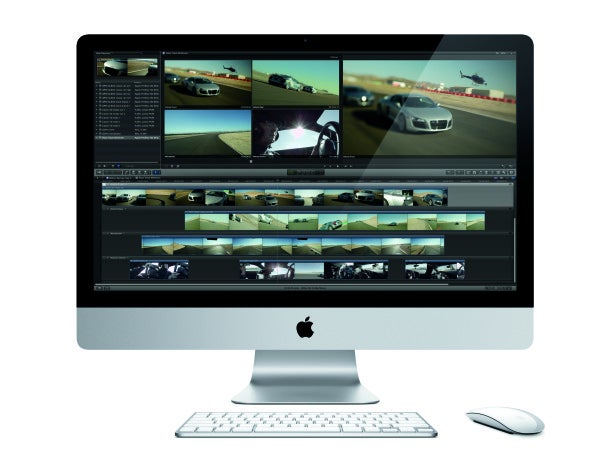 Improvements have also been made to Final Cut's Chroma Key tool, which received new granular controls for complicated effects. This allows editors to stay in-program when attempting to key out tricky blue- or green-screen compositions, rather than banish them out to Motion or another external compositing program. Additionally, users can now re-link media and import layered PSD files, along with several other smaller improvements to the app.
Third-party developers will be able to create new tools using the XML 1.1 standard, which version 10.0.3 supports. Quite a few plug-ins and apps are already available to supplement Final Cut Pro X; XML 1.1 should allow even more developers to hop on-board. In that vein, video software developer Intelligent Assistance has released an XML-based tool that allows users to convert their Final Cut Studio sequences into Final Cut Pro X projects; it too was made available Tuesday on the Mac App Store, for $10. (Earlier this month, Intelligent Assistance had released a $50 converter that downgraded FCP X projects to FCP 7 projects.)
Of course, some users are still holding steadfast for EDL exports, one of non-linear editing software's older tools. When asked about the likelihood of supporting the older EDL standard in a future update, however, Townhill noted that the format was originally designed to work for a single track of video, and while Apple appreciated its long history, the company's focus is now on XML.
Current users can download the FCP X update from the Mac App Store for free; new users can purchase the software for $300 or take a 30-day test-drive by downloading the free trial from Apple's Website.
Meantime, be sure to check out our first look at FCP X 10.0.3, as a longtime videographer takes this new version for a spin.