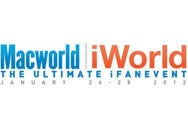 IDG World Expo, the company behind the annual Apple-centric conference now known as Macworld | iWorld, announced Tuesday that an estimated 25,000 people attended this year's event, roughly steady with last year's numbers.
The company—owned by Macworld parent IDG—says that 40 percent of this year's attendees were at the conference for their first time.
Those 10,000 newcomers may well have been drawn in by the new iFan Pass, a cheaper way for attendees to take in not only the 300 exhibits on the show floor, but also live music performances and film screenings, all directly connected to Apple products.
IDG World Expo adds that Tech Talks saw a 145 percent increase in attendance; talks offered advice and tutorials for using iOS, Lion, iCloud, and more.
IDG World Expo also says that Macworld | iWorld 2013 will be held at the same place, Moscone Center's West Hall, from January 31 to February 2 of next year.