Garmin's StreetPilot GPS offerings for the iPhone just got a bit more social.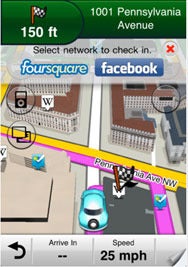 Both Garmin StreetPilot and Garmin StreetPilot onDemand saw updates last week in conjunction with the Macworld | iWorld show. Version 7.5.0 of the GPS navigation apps added integration with Wikipedia, Facebook, and Foursquare.
Maps in the mobile navigation apps now include Wikipedia icons that contain more information about a particular location or point of interest—ideal for helping you identify a building or landmark when you're in a new town. With Facebook and Foursquare integration, users can now check into locations directly from the StreetPilot app.
The 7.5.0 updates also add new voice and vehicle icon options for personalizing the apps. Garmin enhanced the 3D renderings of buildings in the new StreetPilot versions. The TripPlanner feature now lets you create, edit, and save multiple routes before you start your journey, while Via Points makes it possible to add multiple stops on your route.
Garmin StreetPilot is a $60 app that lets users download maps to their iPhone as needed; the app includes pedestrian navigation and public transit routes for cities. Introduced last year, the onDemand version of the app—which is aimed at travelers who only need route information for a specific trip—is a $1 download offering 30 days of free premium features. From there, users can opt for monthly or annual subscriptions to take advantage of premium features. (Otherwise, the app essentially works like the built-in Maps application, letting you look up directions and view maps.)