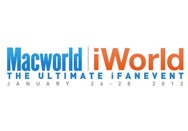 For those who've been following Apple for years and attending the winter's Macworld Conference and Exposition for nearly as long, some of the changes to the 2012 version of the show were unsettling. First, the name—from Macworld Expo to Macworld | iWorld. And then the focus that accompanied that change—from a show largely centered on vendor booths and training to one that not only included these components but also devoted space and time to the creative things people do with Apple's technology. Finally, the vibe. In the past the managers of the show attempted to put some space between it and the people most devoted to Apple and its products. Oh sure, those with the beards and ragged BMUG t-shirts were allowed in the doors, but the message was "No, really, this stuff is for mainstream consumers too."
In a turnabout, Macworld | iWorld embraced this enthusiasm, billing the show as the "ultimate fan event." One where the old BMUG gang, the new hipster iOS crowd, and everyone in between could gather to celebrate their love for Apple products and technologies, new and old.
So, how did that work out?
It ain't about the aisles
When attempting to gauge the spirit and success of the show, you need to look beyond floor traffic in the Exhibit Hall. While this was once a reasonable way to spot-check whether the show was working, it no longer is. And it isn't for one reason— the iFan pass.
In the past, if you wanted to attend conferences and get training, you paid several hundred dollars for the privilege. The training was solid but exceeded the budget of many people. As the economy suffered, so too did attendance for the conferences. Last year, I peeked inside several conference rooms to see just a handful of people.
This year, if you planned ahead and booked an iFan pass several weeks in advance of the show, you could have that pass for $75 (they were available for $125 the day of the show). That pass got you into the Exhibit Hall, Tech Talks (the new name for conference sessions), Music Experience (music performances on the Mezzanine level), and Film Event.
This pass had a couple of effects on the show. First, there was an ebb and flow to traffic on the Exhibit Hall show floor. Because there were so many people with iFan passes, when something cool was happening upstairs (cool things often happened concurrently), people left the Exhibit Hall and the aisle traffic thinned out. If you were standing on the show floor during one of these ebbs and never stuck around for the flow (which usually occurred between sessions), you might believe the show was dead. It wasn't. It was simply that people were off doing other things.
The second is that the conference rooms were fuller than I've seen them in years. This year I moved from room to room and in each I saw a respectable crowd. For example, Macworld presents an Ask The Editors session each year where attendees can talk to us about our work and, more generally, probe our thoughts about Apple. Usually we have 30 or 40 people in the room. This year there were easily 100 people present.
I also participated in the RapidFire session (hosted by our own Dan Moren) where speakers were allowed five minutes to speak about a topic of their choosing (I spoke about DVD ripping). I arrived late because I had a prior commitment at the Macworld Live stage. I was initially turned away because the room was at capacity. I pulled the "But I'm a speaker in this session!" gambit to get in. Others weren't so lucky.
In the Speakers Room I heard similar reports. While not every session was at capacity, every veteran speaker I talked with was impressed by the increased attendance this year.
The creative content
I was fortunate to dip several digits into all of the show's content. For example, on the Macworld Live stage I hosted a panel with digital painter Bert Monroy, photographer Eduardo Solér, and musician Stefan Lipson to talk about how technology has altered the way they go about their business. (You can watch a video of that session on YouTube, if you're so inclined.) Although we've always had the liberty to delve into such topics, this kind of panel was a better fit for the tenor of the show. Likewise, later that day, our stage featured the Super Art Fight, where artists Brandon J. Carr, Jamie Baldwin, and Jamie Noguchi attempted to outdraw each other with a pair of drawing tablets. Again, completely in line with what was happening elsewhere in the show.
I also had the chance to interview two bands— moe. and Atomic Tom. These two outstanding groups were invited to the show because they'd performed songs on their iOS devices—either on stage (moe.) or in videos (Atomic Tom). In half-hour conversations with each, I was able to get their take on technology in their work, the viability of devices like the iPhone and iPad as performance instruments (judgement: still gimmicks but promising), and how bands operate in a world where the road to fame and riches isn't necessarily tied to a contract with a major label. Once we'd completed the interviews each band played a set on their "real" instruments. I walked away being a fan of each band and would gladly cough up the price of an iFan pass to see them again.
Outside of the big rooms where these bands played there was a stage set up in the corner of the Mezzanine level hosting some seriously great musicians. I often stopped by the stage to take in some killer playing—much of it using Apple technology such as Logic and Mainstage. As I walked away from the stage, I took some time to explore the art of South Park as well as the work of other digital illustrators and painters.
For someone like me who has one foot in technology and another in the arts (I'm a musician by trade), this content satisfied both my left and right brain. From the looks of others around me, I wasn't alone.
And there was lots more in the form of DJs, dance, and a drum circle. Yes, like some of you, I think the notion of a drum circle smacks a little too much of '60s San Francisco. However, while observing several hundred people banging away on the provided instruments (and in a coordinated way thanks to some outstanding leaders), I ran into a neighbor of mine from years ago. She's a music therapist—one who often works with veterans—who was on hand to help out. She explained the idea of the drum circle to me—as a way to expend energy and form a temporary community engaged in a common task. And it fit. The show is an exercise in community—though one focused on technology rather than barn raising or quilt making. And to wrap up the last day with this kind of communal exercise, attended by young and old, fit the theme. It seems laughable from the outside. Like much of Macworld | iWorld, you had to be there to get it.
Expo reborn
Stepping back from all the fun I and other people had, the main takeaway I had from Macworld | iWorld is that there's new life in the show. Much as I loved the old Macworld Expo, it had become an increasingly difficult model. There are only so many Apple die-hards willing to trudge around a trade-show floor. And now that Apple is anything but "beleaguered," there's no longer the need to keep the spirit alive by letting your Apple freak flag fly. Apple's won, there's no reason to defend or evangelize it. Rather it's long past time to start exploring more of the cool things we can do with the company's products and technologies.
And ultimately that's where Macworld | iWorld succeeds. It's now a show as much about doing as having—and one that's available to everyone, not just those whose companies can foot the bill for a pricey conference package. As such, it has the potential to attract not only those interested in accessorizing and enhancing their Apple gear, but also people who want to dive into areas where Apple technology excels—the arts, media, communication, and productivity.
This is an attractive notion and one that may nicely increase attendance. And should that happen, the show will become more desirable for vendors, many of whom have stayed away from the show in recent years because, without Apple, the numbers didn't make sense.
With this new iteration of the show, we've finally moved out from under the shadow of an Apple show without Apple. Expo of old is dead, and rightfully so. Here's to an invigorated Macworld | iWorld that celebrates the spirit of Apple rather than simply its many physical manifestations.
[Christopher Breen is a senior editor at Macworld.]