After spending a few days wandering up and down two floors of Moscone West to cover the Macworld | iWorld show, it was apparent the name change for this year's event wasn't a superficial one. Event organizers had spoken of their desire to make the annual get-together for Mac enthusiasts more than just a trade show for Apple products; instead, they looked to turn Macworld | iWorld into a cultural event for all the divergent aspects of Apple culture.
Having attended my share of tech talks, gone to a few exhibits, and kicked the tires on more than a couple products on the show floor, I think Macworld | iWorld came pretty close to reaching that goal.
For proof of a more expansive, inclusive event, look no further than the Macworld | iWorld calendar. Modest Mouse played a concert last Wednesday. South Park Studios highlighted Thursday's tech talks. And I felt like nearly every subsector of the Apple community—from photographers to audiophiles—had a "meet and greet." In short, the event felt more democratic and organic. For the first time in my experience with Macworld Expo–and I've been going to shows since 2008—it felt like a expos for the fans of the products, not necessarily just the consumers.
If you're an Apple fan, the talks, lectures, meetups and parties were a great introduction to the Expo experience. If this was your first trade show, this was probably the most un-trade-show-like you could get.
The exposition floor, however, seems a step or two behind when it comes to embracing the all-encompassing approach of the rest of Macworld | iWorld. Instead of campfire circles, friendly conversations, and Apple-flavored happenings, exhibitors seemed to opt for showing off iPad accessories—and then doubling down. If you were on the lookout for something to protect or augment your iPad, the three-day event was your Christmas. Seemingly every other developer decided that the iPad was where it's at: Turn your iPad into a camera! Or a heavily armored tank! Maybe a baby monitor? How about a fashion accessory?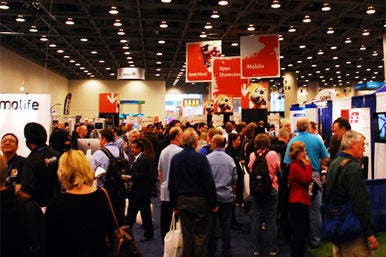 That's not to say the glut of iPad accessories squeezed out everything elsewhere. Old stalwarts like OWC and Seagate had plenty to offer anyone looking for storage, and business apps for both the Mac and iOS platform could be spotted around the show floor.
And then there were the headphones—by my count, a half-dozen headphone booths employed the most extreme tactics to get you to buy their wares. Polk Audio's booth featured a trampoline where especially limber models did gymnastic flips while wearing some of Polk's sporty offerings. (The point? If you find yourself summersaulting in front of a crowd, you need never fear that your headphones will fall off.) Polk also featured a big banner advertising "Rudy Gay: Pro Basketball Star" to promote its lineup; if that's the same Rudy Gay that's been single-handedly destroying my fantasy hoops team, "star" is a bit of a stretch.
Headphones were also the subject of one of the few notable flat notes at Macworld | iWorld—the Silent Frisco section on Moscone West's second floor. The idea was that it the section would feature a dance party, with music piped in to the headphones that only participants could hear. Maybe it was a good idea on paper; in practice, it was a bit distressing to see a handful of lonely souls silently bouncing around to music that no one else could hear.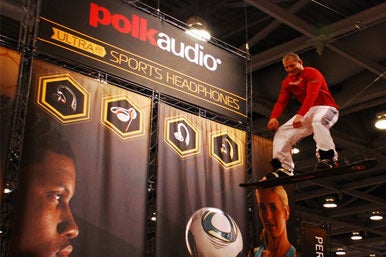 If the silent dance party had me feeling down, I only had to journey a few feet over to the South Park galley on the second floor to restore my spirits. As outlined in Thursday's tech talk, the South Park Studios uses Mac workstations, Xserves, and Autodesk Maya to produce the hit animated series, and the gallery displayed the fruits of those labors. Personally, I think it would be fantastic to see other creative types that use Apple products showing their work off at future Macworld | iWorld events. The gallery had some great fan art immortalizing various South Park episodes, but it was really cool to see the stills of various construction-paper-animation scenes from the early show.
Over five years of going to show formerly known as Macworld Expo, I've seen many changes and evolutions. But this year's transformation into Macworld | iWorld is perhaps the most striking and also the most welcome. Apple may no longer attend such shows and large developers like Adobe and Microsoft may have followed suit, but the void has been filled by a quilt of smaller vendors, parties, and enthusiastic fans who still want to come together and share their commonalities. In contrast to some years, I left feeling like there's still a place for such an event. It shows that it's more than just products that bind this community together. Instead, artists, inventors, and developers can come together on their own terms to party, share, and create—and that's a lot of fun to watch.
[Former associate editor Chris Holt remains a frequent contributor to Macworld.]